Live to the max
It is time to catch all eyes. This model is not lost in the crowd. Don't drive a discreet vehicle, drive the Hyundai Veloster and live to the fullest.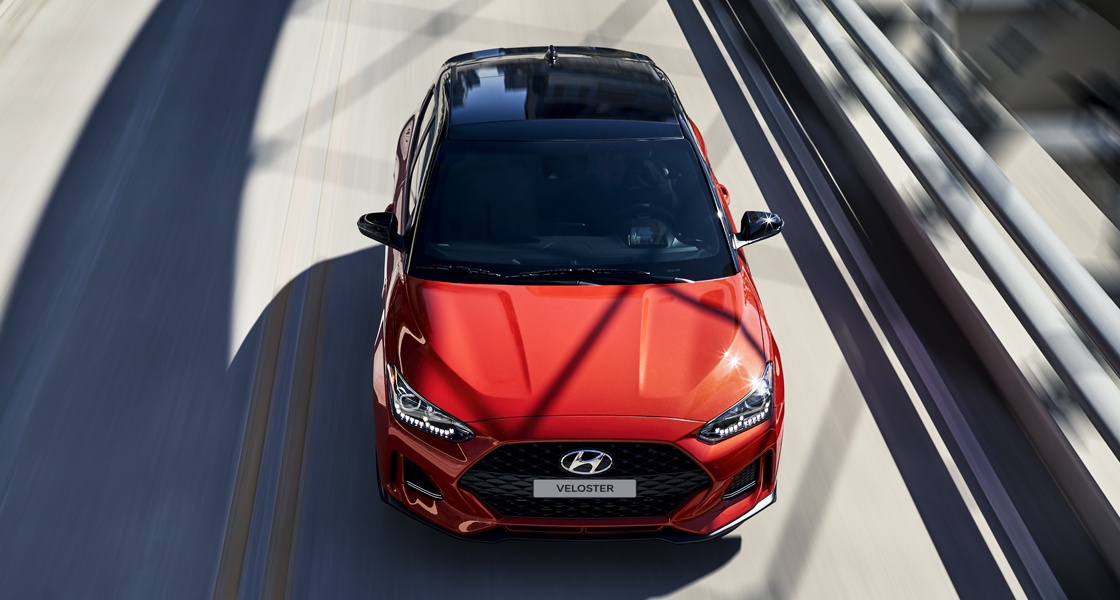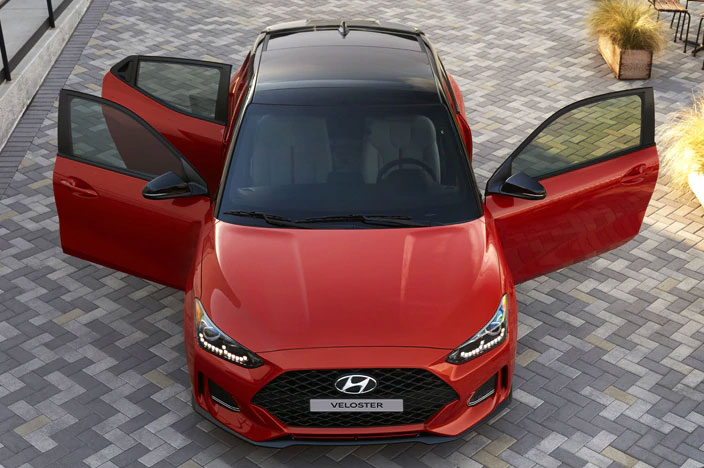 Two influences. A vehicle
A sports coupe comes with two doors.
A hatchback comes with four. The Veloster comes with three, to get the best of both worlds.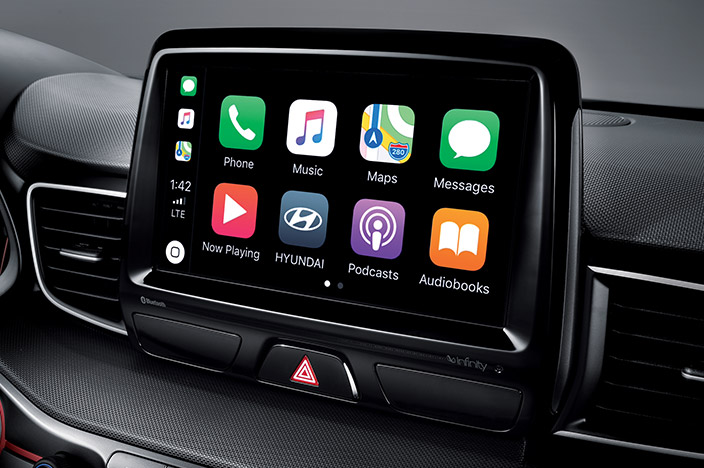 Always connected
Today staying connected is what matters. With the Hyundai Veloster you are not left behind as there is no reason why you should be without your music and able to talk while traveling, without taking your eyes off the track.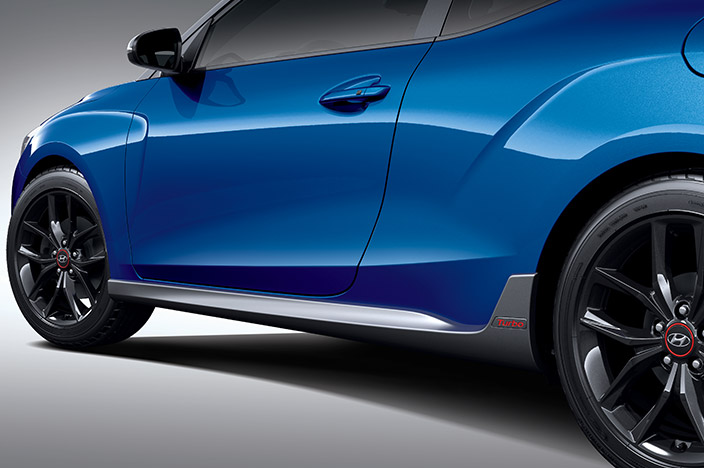 Applied engineering
Engineering matters too. You want performance and efficiency. You want each and every element of your vehicle to work in perfect harmony, for all the places you need to go and all the things you want to do.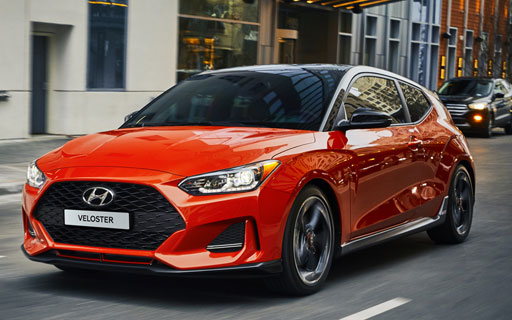 Exterior
First impressions? Neat. Durable. Sports. With a wide, low stance, the Veloster flaunts dynamic lines of character that flow throughout the car, in all directions.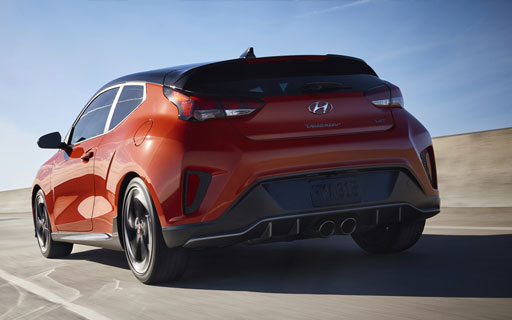 Characteristics
The Veloster impresses with more than its engine. Its aerodynamics have been studied to reduce drag, while handling and handling have been optimized through advanced technology and engineering. Fuel consumption and emissions are frugal, while collision analysis, NVH and braking performance are top notch.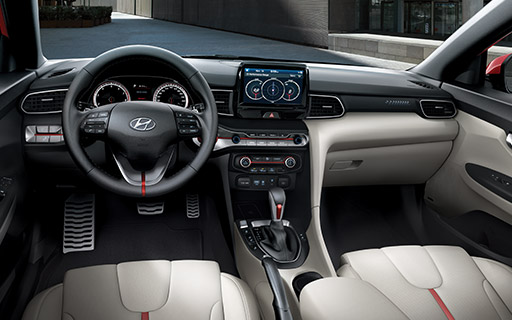 Inside
The powerful and robust exterior design continues inside. Every element reinforces a kind of tough cool, from the useful center dash to the metal-painted accents around the center console, door handles, air vents and gear stick.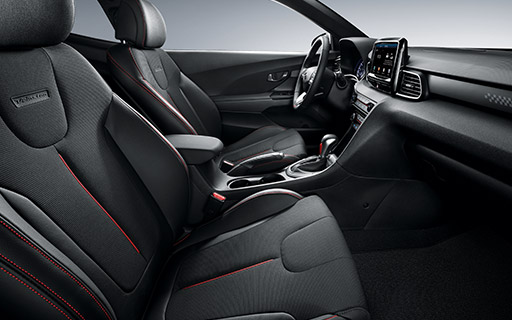 Security
Veloster's active safety measures are aimed at maintaining control at all times. Technologies are deployed when they move, when they are stationary, when they park on a slope, and when they travel over poor road surfaces.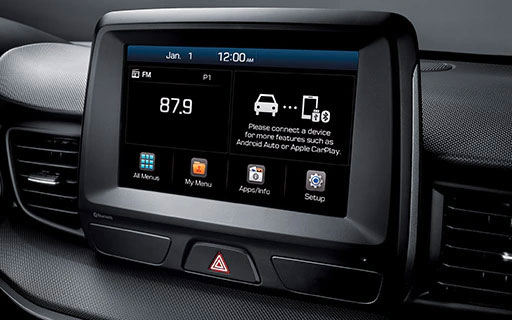 Conveniences
The switches and controls for accessing Veloster's convenient multimedia functions are easily accessible on the center console. A large 7 "LCD screen displays all the information you need. And with a USB connection, connecting external devices is easy.
Beyond athletics - Born to achieve the best results
True to Hyundai's iconic shape, its hexagonal grille framed by LED headlights enhanced by sleek horizontal lines not only manifests a bolder urban stance, but also reveals its true athletic nature, ready to be driven.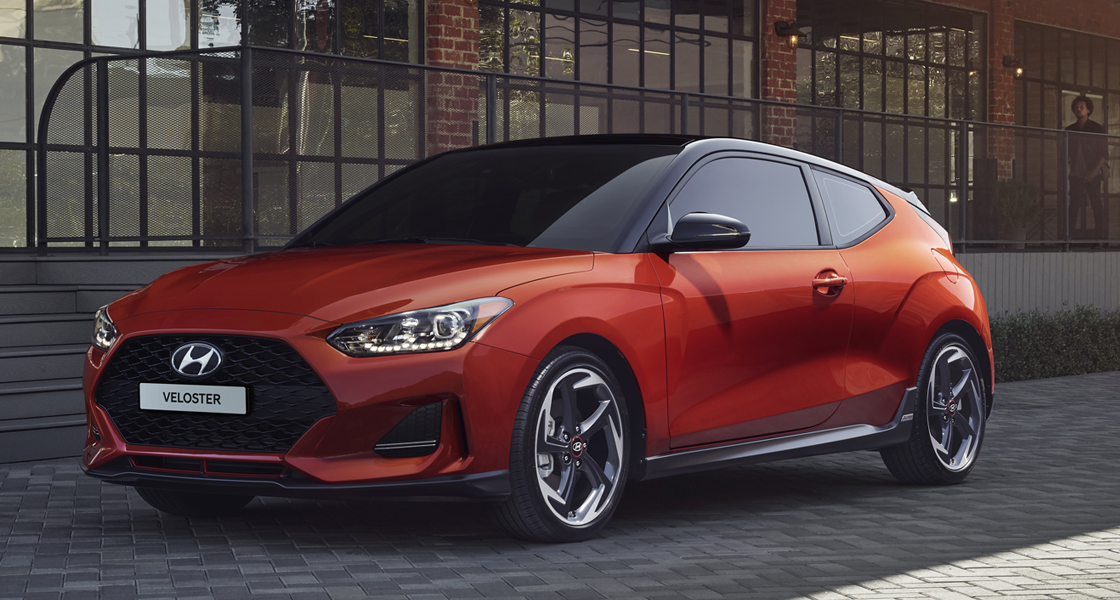 Bold from the start, Veloster is reliable at all times
It's close to the ground, with widely spaced wheels, a hexagonal grille, and a headlight design that oozes contemporary flair.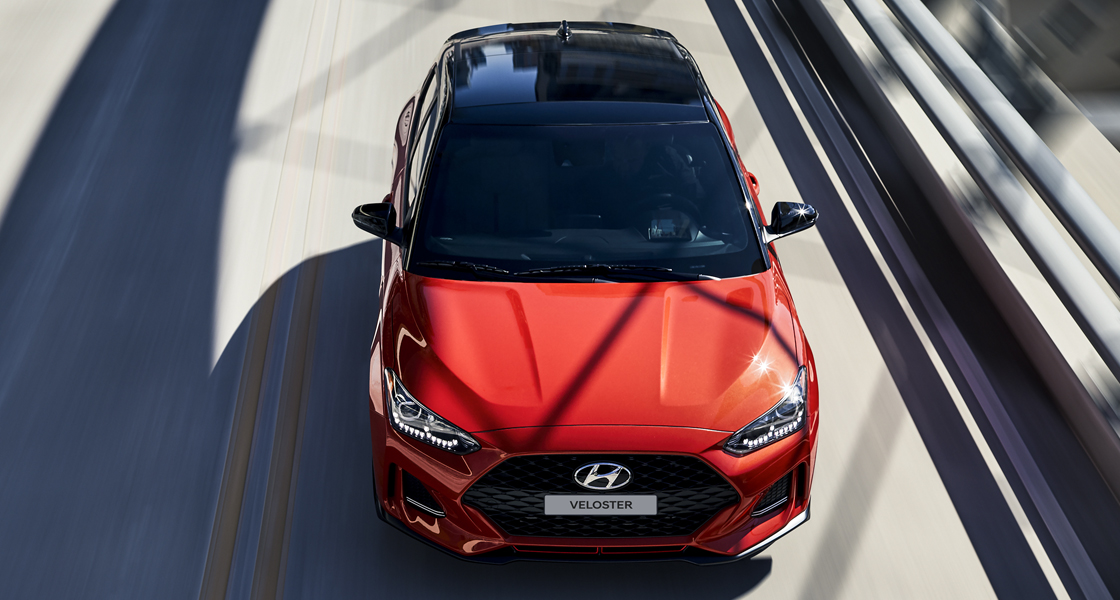 A thriving coupe with a sporty profile
A short front overhang connects to a sloping roof from front to back.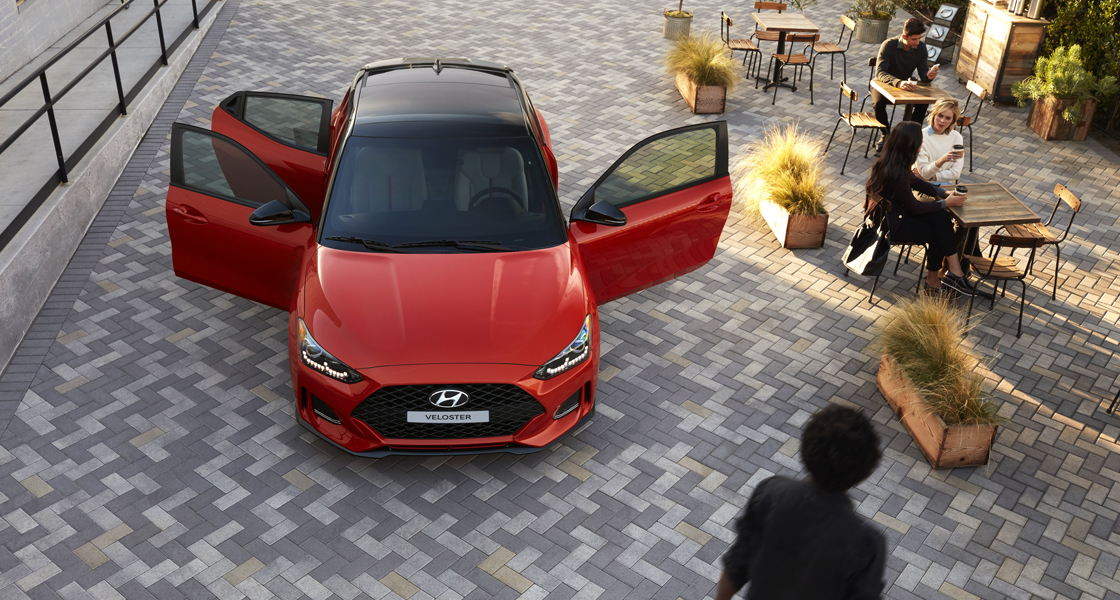 Front and side styling extends to the back
Signature touches on the sleek rear include unique taillights and a chrome-trimmed, twin-nose tailpipe.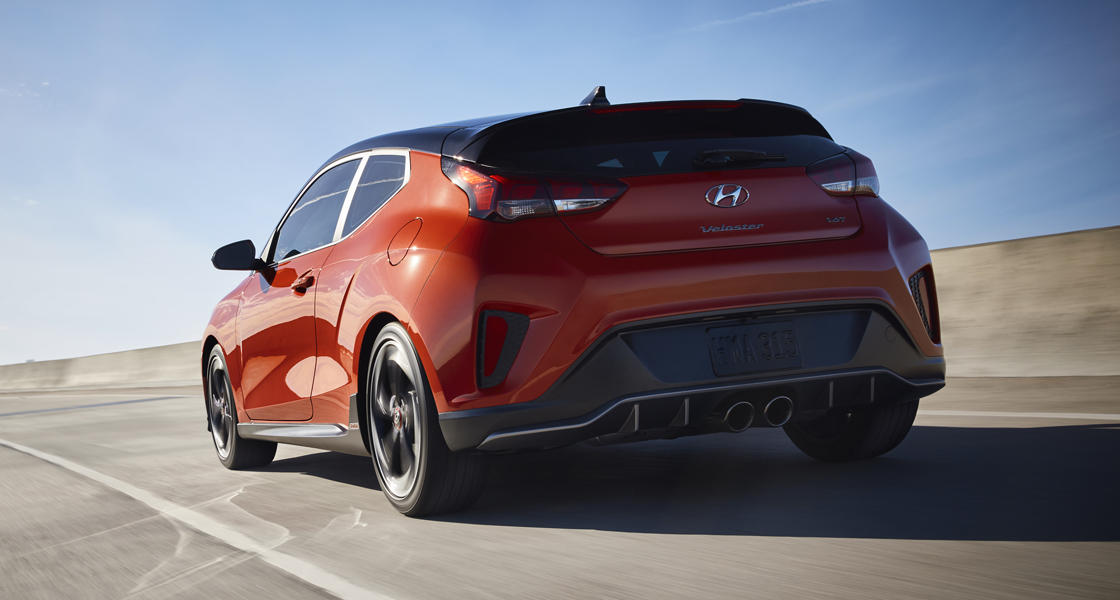 Dual center sports exhaust pipe
Dual tube, with chrome edges. This is sportsmanship in its most captivating form. Sleekly shaped, dual-outlet center exhaust pipe built into the rear bumper gives the Veloster an abundance of sporty character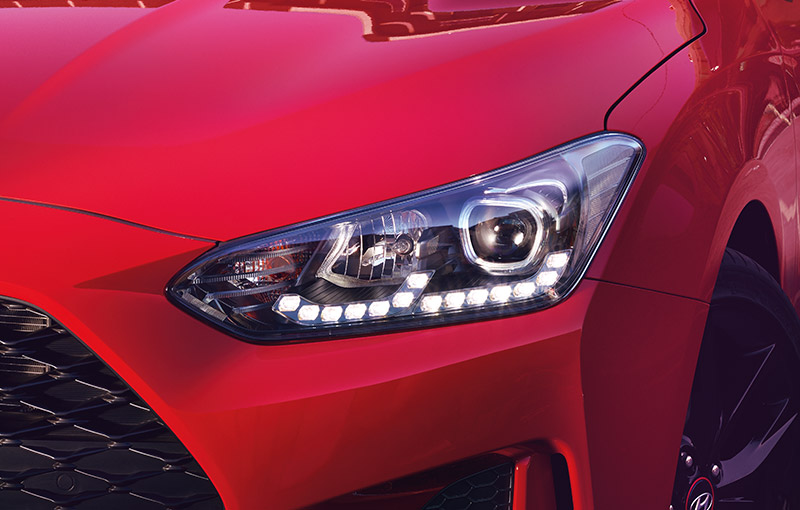 LED projection headlights
The headlights incorporate LEDs, projecting a bright and accurate beam on the road. High beam assist automatically lowers your headlights when another vehicle is approaching, so as not to dazzle oncoming drivers.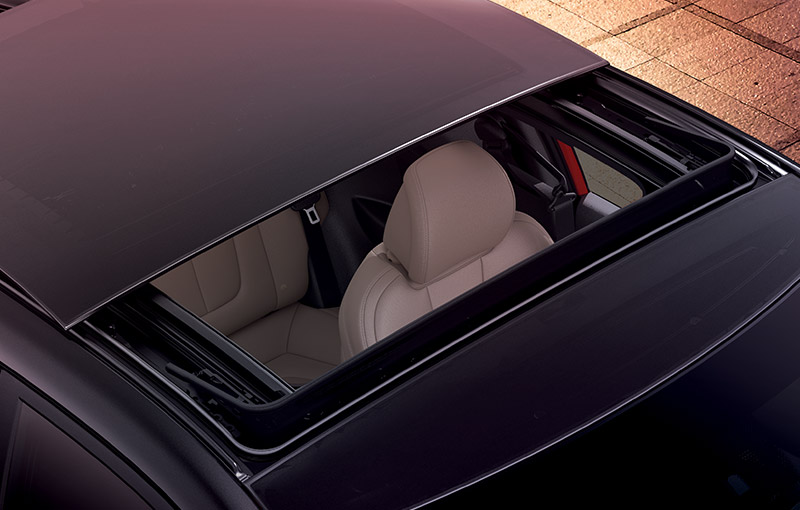 Wide Sunroof
A panoramic sunroof perfectly matches the active and energetic lifestyle of Veloster drivers, allowing plenty of light and fresh air to enter.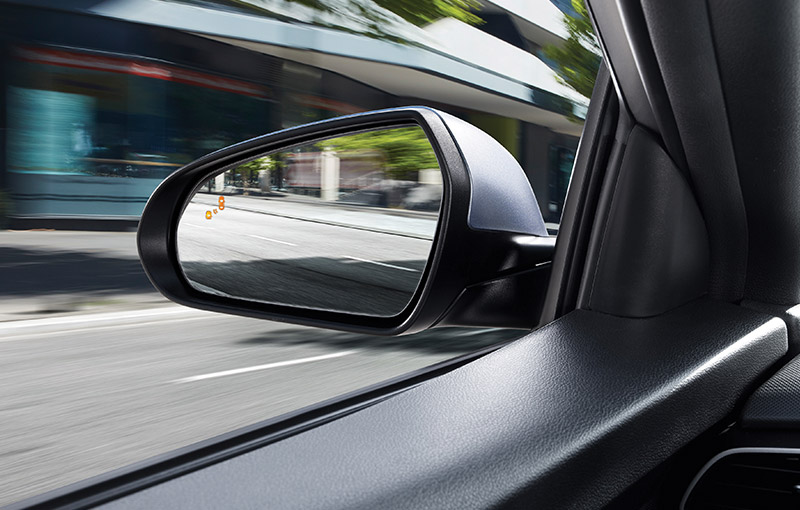 Rearview mirrors with turn signals & heaters
The elegantly shaped side mirrors feature repeater LEDs on the exterior rearview mirrors, for maximum high-tech character and increased visibility when turning.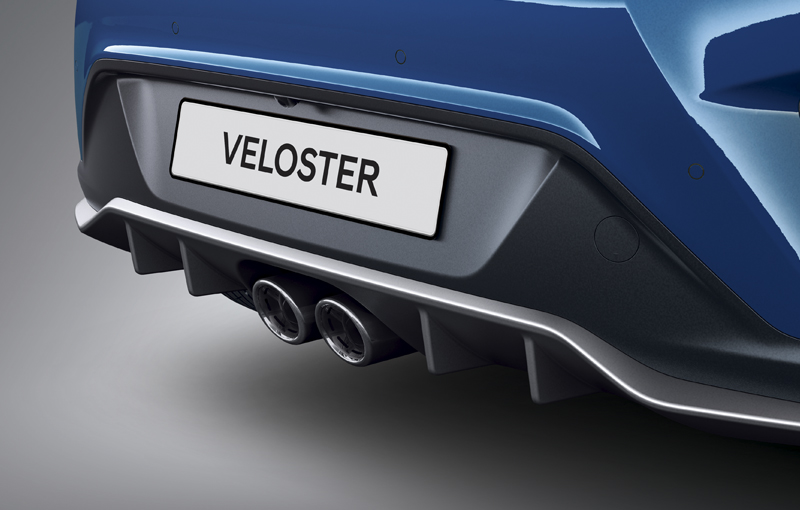 Dual center sports exhaust pipe
Dual tube, with chrome edges. This is sportsmanship in its most captivating form. Sleekly shaped, dual-outlet center exhaust pipe built into the rear bumper gives the Veloster an abundance of sporty character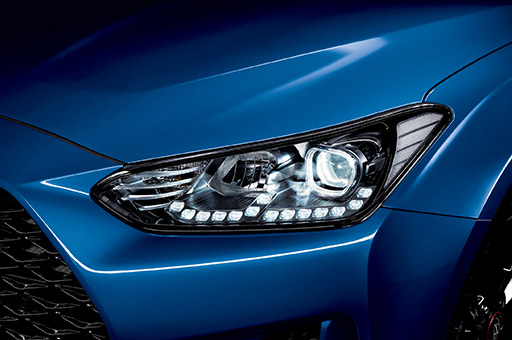 Fog lights
Located in the lower part of the bumper, sports fog lights make driving in foggy conditions easy, with a sleek, modern design.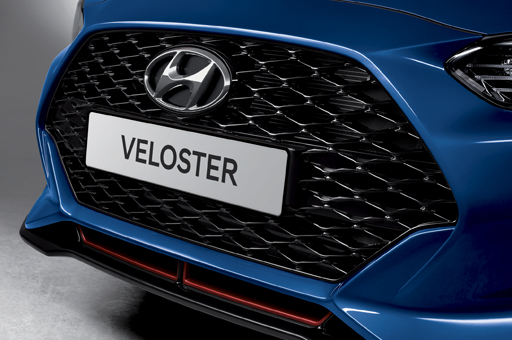 Radiator grille
Hyundai's signature hexagonal radiator grille presents a dynamic, confident and dynamic face to the world.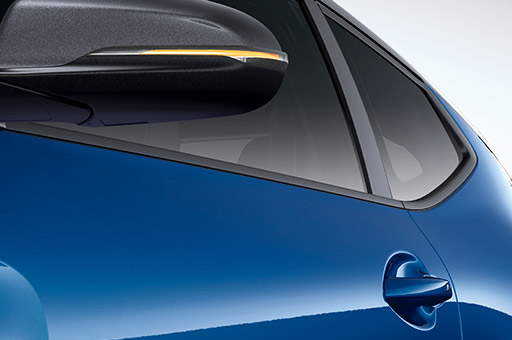 Hidden door handle
Hidden door handles ensure smooth, sleek bodywork is not interrupted.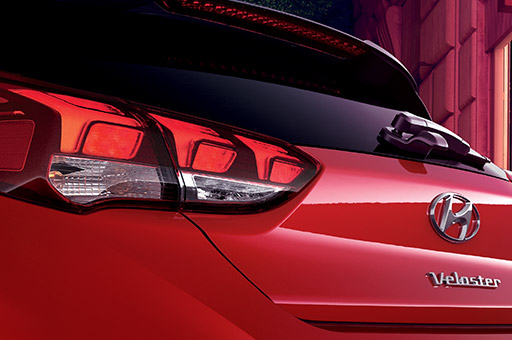 Rear spoiler and wiper
A rear spoiler improves fuel efficiency and driving stability, while a flat-blade rear wiper blends harmoniously.
With a 100% renovated, modern and driver-focused interior design. Welcome to your kingdom.

The heart of it all, where sport meets action

The driver's seat is a dynamic space decorated with elegant, high-tech components.
Advanced ergonomics
Every detail is tuned for greater driving precision with modern designs that deliver a delightful experience from every seat.
Interior space
Experience the dynamic comfort of the cabin enriched with a sporty touch.
Steering wheel wrapped in leather material
The multifunctional steering wheel puts more control at your fingertips from audio to shift stick to Smart Cruise Control.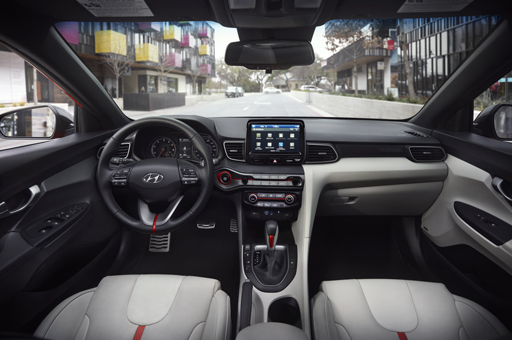 Asymmetric design
Its unconventional style continues, with the center console designed for the driver's side.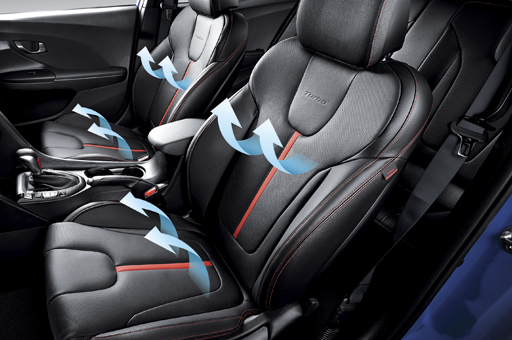 Front seat heater
The seat warmer in the driver and passenger seats provides warmth and comfort during cold driving conditions.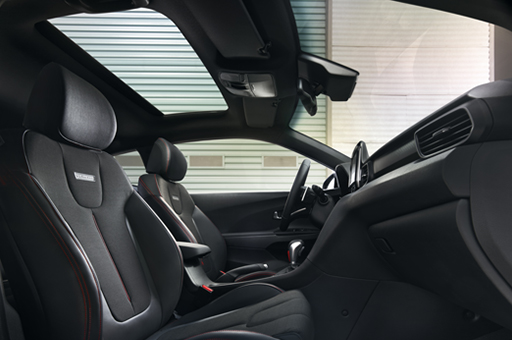 Wide Sunroof
Enjoy additional sunlight thanks to a more expansive, available sunroof that extends the entire width of the roof.
Exceptionally Dynamic
Its optimized limit capabilities offer a ride as powerful as it is smooth for an unmatched dynamic experience.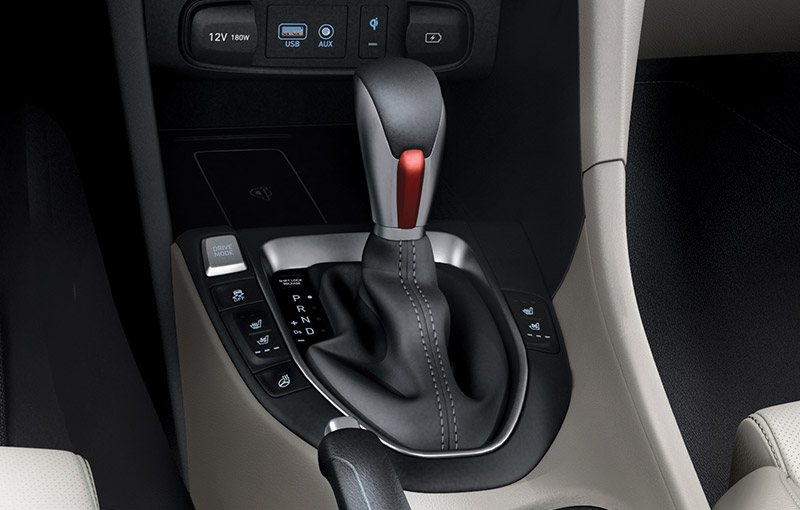 Six-speed automatic transmission does the job
Double Clutch Transmission (DCT) The new Dual Clutch Transmission (DCT) is like a manual transmission that changes automatically. You can feel and even hear the gear shift with great response and sound, but there are certainly no shifting issues. The six-speed dual-clutch transmission (DCT) provides better ride quality, better fuel efficiency, less noise, and increased durability.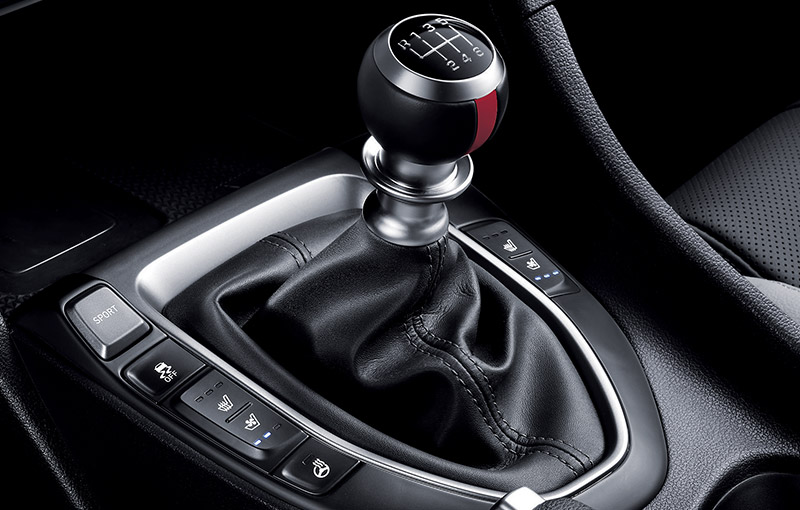 Smoother control of the six-speed manual transmission
The six-speed manual transmission is built with a ball and key type synchronizer and optimized gear tooth shapes
Absolute comfort
Enjoy comfort, control and elegance with driver-centric technology features that will give you a unique driving experience.
A monitoring group that keeps you under control
With two cylinders, like the twin pipes of a motorcycle exhaust pipe, the references of speed and open air follow up to the group.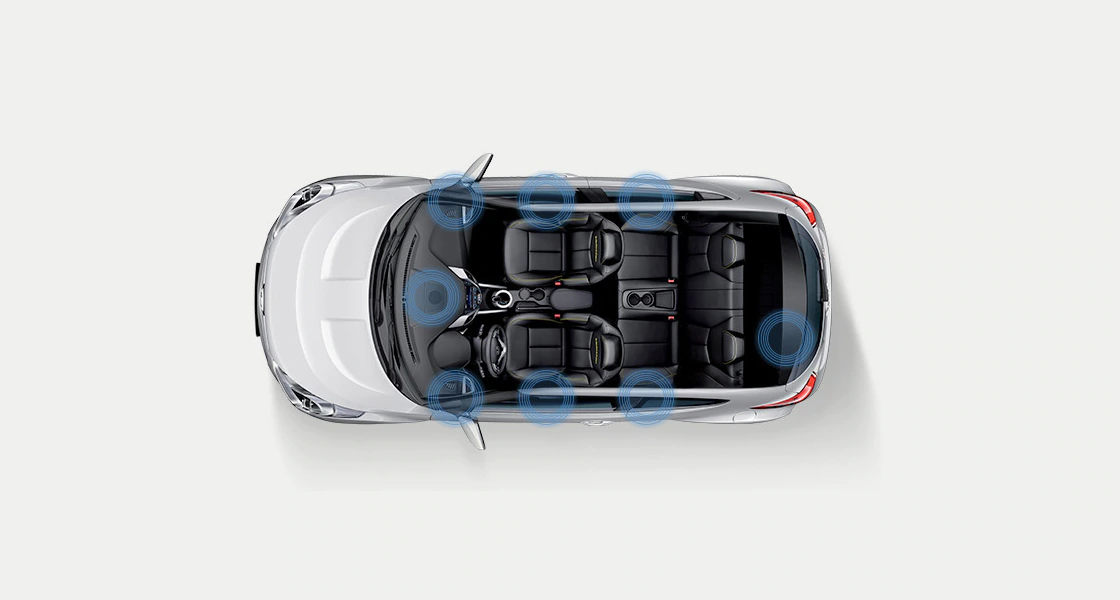 A premium sound system for hitting the road
The Autonet premium audio system features a center speaker, an external amplifier, and a sub-bass speaker.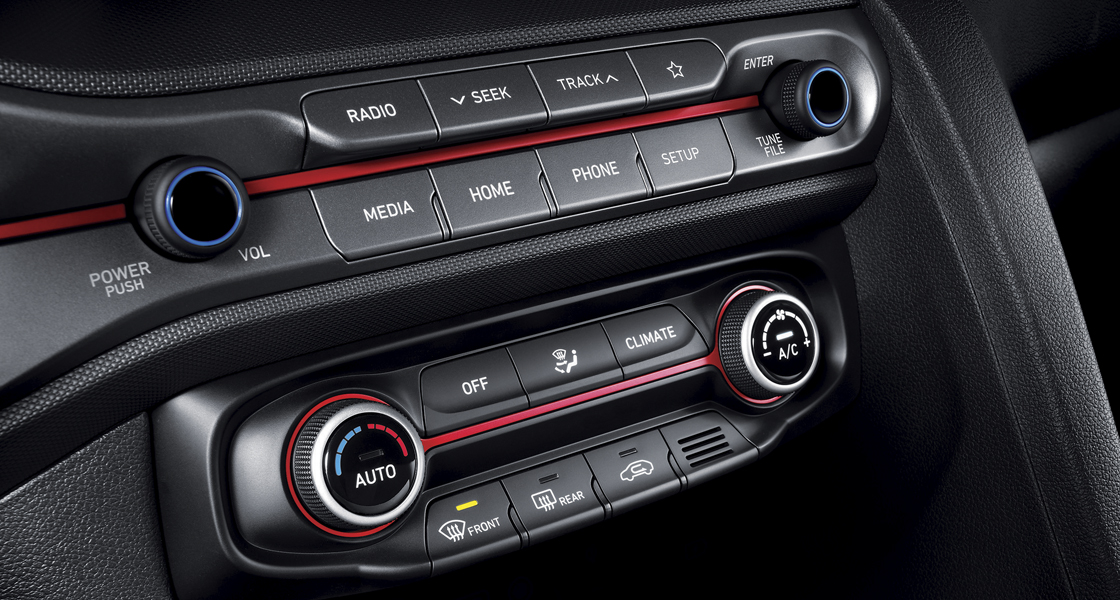 Set up and cool down with the full automatic air conditioning system
Simply set the desired temperature and let the system take care of the rest, ensuring a completely comfortable custom indoor climate.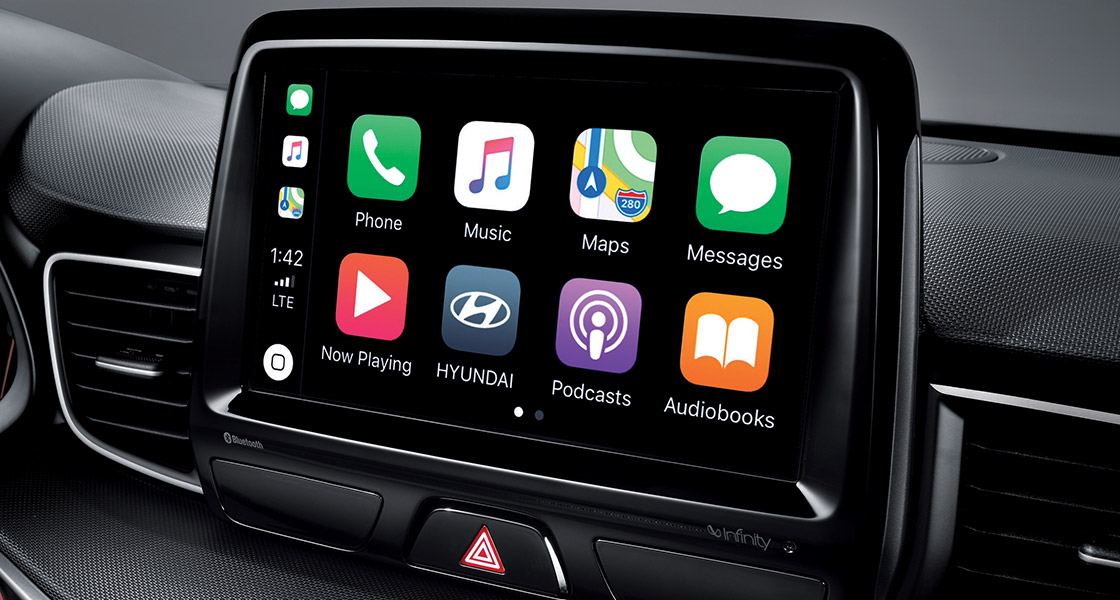 Great views on a 7 "touchscreen
Switches and controls for accessing Veloster's convenient multimedia functions are easily accessible in the center console. A large 7 "LCD screen displays all the information, while users can easily connect external devices thanks to the USB connection.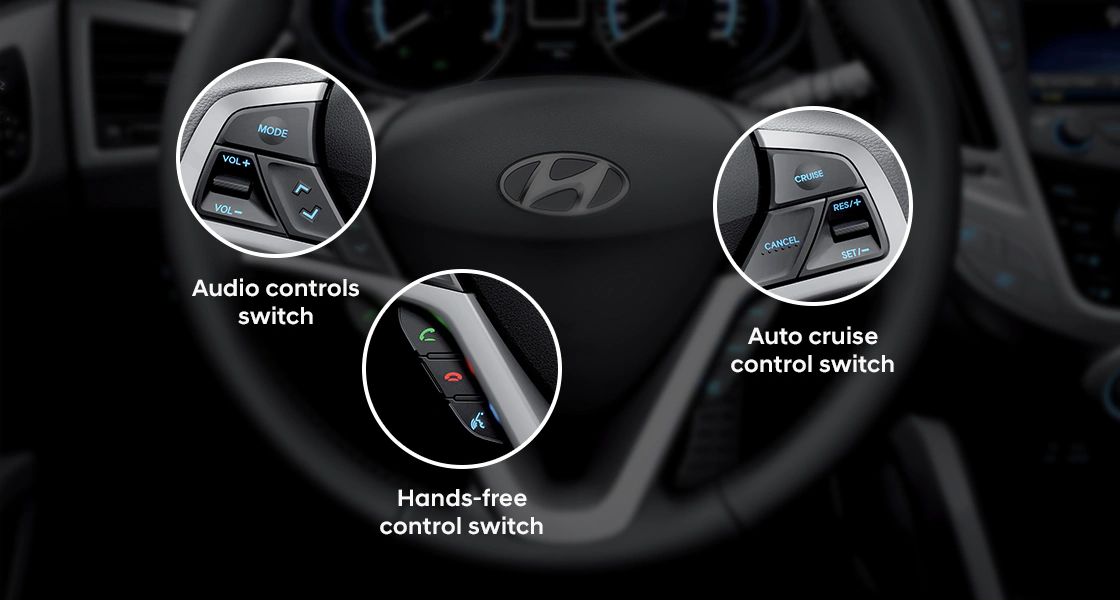 Operate DJ with remote control on the steering wheel
Remote control switches on the steering wheel allow you to effortlessly control multimedia functions as well as automatic navigation control.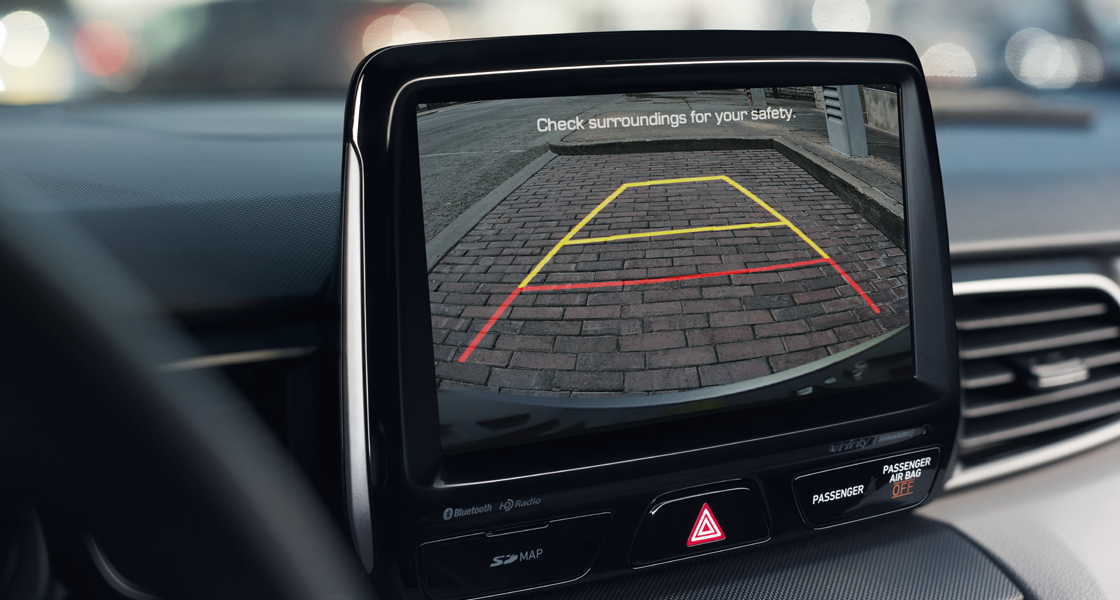 Rearview screen system
A camera on the tailgate handle shows the rear view on a 7 "LCD screen, to assist with parking.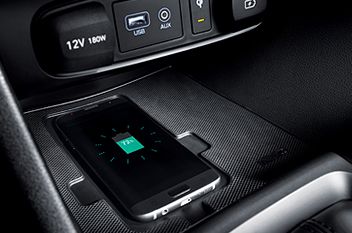 Conectividad (cable AUX / USB / RCA)
Users can connect an external device, such as an iPod, using the cable that comes with the device and with a simple USB connection.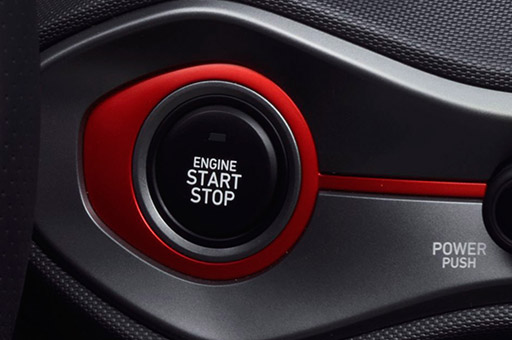 Engine start and stop button
The engine start / stop button is designed to look like a cat's eye, especially at night.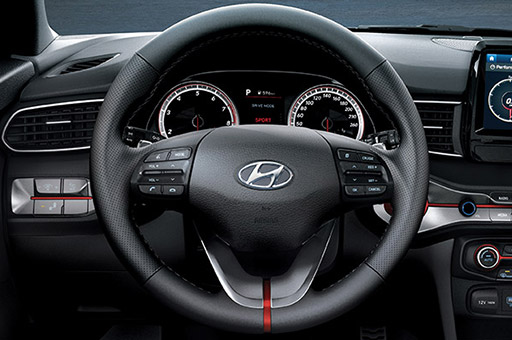 Heated steering wheel
A heated steering wheel eliminates the cold drivers experience when they take the wheel in the dead of winter.
Superior Security
The Hyundai Veloster is not just about fun, it has several standard active safety features, so you can enjoy your trip with confidence.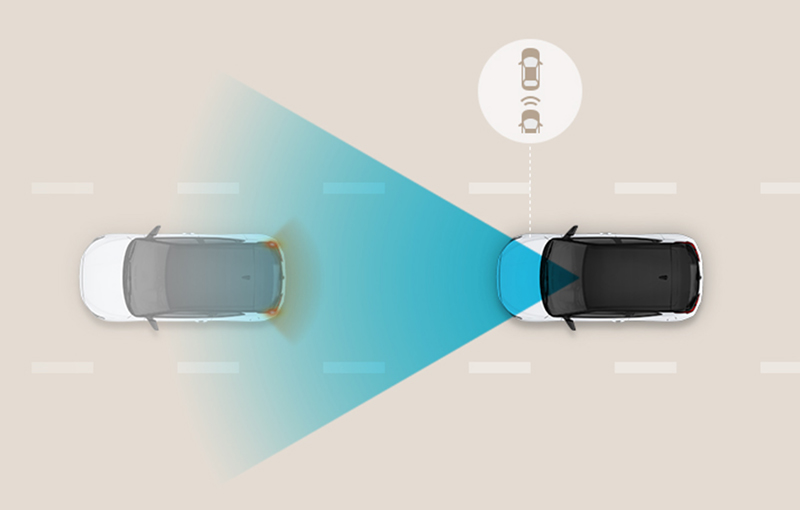 Assistance to avoid frontal collisions (FCA)
It works in three stages using camera sensors, warning the driver visually and audibly. In a second step, it controls the brakes according to the collision danger stage, and in a third stage, it applies maximum braking force to avoid a collision or minimize damage if a collision is unavoidable. Vehicle Stability Management (VSM) Vehicle Stability Management (VSM) shortens the braking distance and improves maneuverability by helping the steering system on asymmetric surfaces (wet / dry), causing traction uneven all four wheels.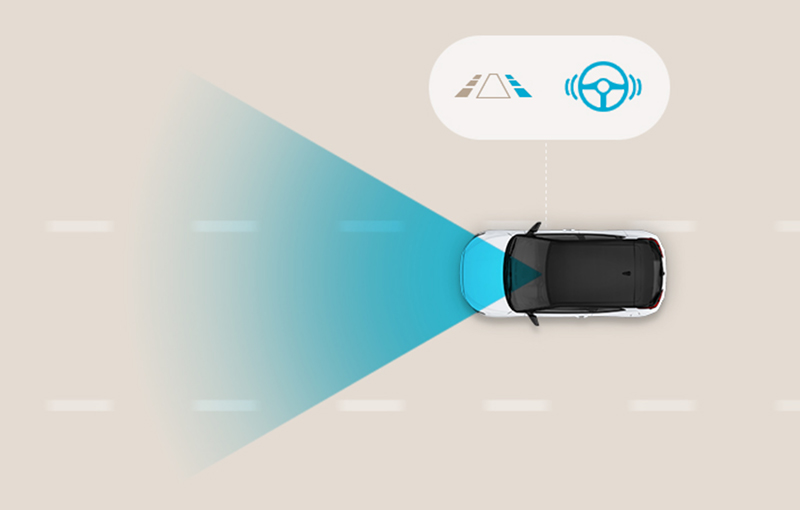 Lane Change Alert System (LKA)
The Lane Departure Warning system uses a front camera to monitor the limits of the road. Should the Hyundai Veloster be found to be approaching the lane limits, the driver will be immediately notified with a sound and visual alert.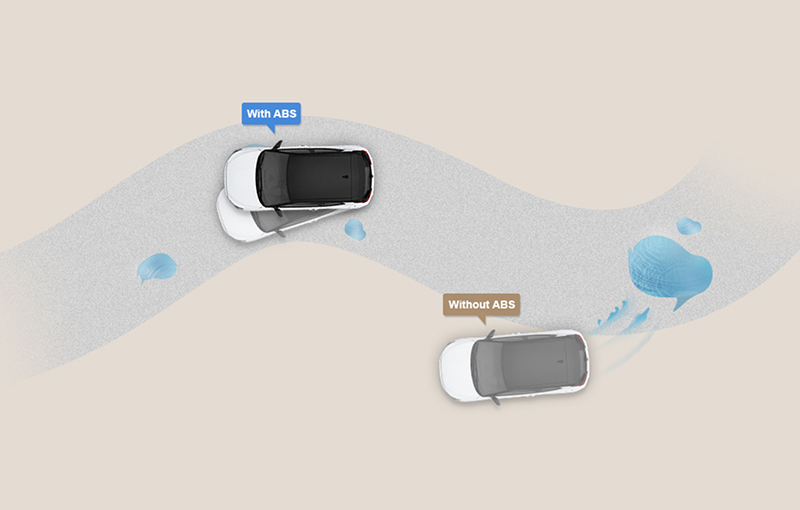 Antilock Brake System (ABS)
To prevent wheels from locking during an emergency stop, ABS allows drivers to retain steering control and maintain steering stability by automatically pumping the brakes when a sudden brake is detected.

Rear Cross Traffic Collision Warning (RCCW)
When backing out of a narrow parking space, the Rear Cross Traffic Collision Warning reduces the risk of a collision. Using 2 radar sensors on the rear, it alerts you in the event that cross traffic is approaching.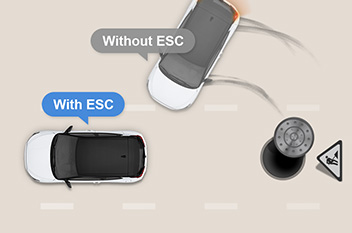 Electronic Stability Control (CES)
By detecting movements of the steering wheel relative to wheel rotation, the ESC handles the engine, braking system, and steering during sudden braking and turning to prevent skidding.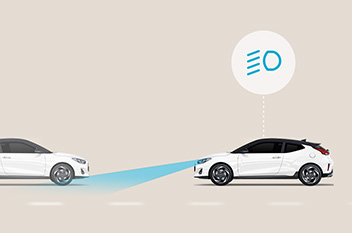 Roadside Assistance
More security and less stress. High beam assist detects oncoming vehicles as well as vehicles in the same lane ahead at night, and automatically switches from high beam to low beam as appropriate.
Motor
Engine Type: MPi
Displacement: 2000
Max Speed: 208
Max Power: 149
Max PowerRpm: 6200
Max Touch: 18.3
Max TorqueRpm: 4500
Acceleration: 7.7
Braking Distance: 41.5
Number of Cylinders: 4
gear: 6
driveConfig: 2WD
VELOSTER - Nu 2.0 MPI 6 Speed ​​Automatic (Standard)
VELOSTER - 1.6 Turbo (1.6 Turbo)