Every detail of the new Santa Fe, both visible and hidden, is family-oriented. Rediscover your family's happiness with exclusive designs that brighten up daily routines, interior spaces large enough to accommodate all types of lifestyles, and advanced technology that keeps everyone safe at all times. Stay focused on the happiness of your family. Santa Fe will do the rest.

The Hyundai Santa Fe is the result of a harmonious combination of space, comfort, design and quality finishes.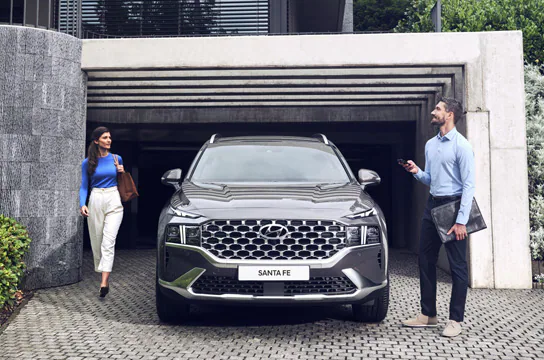 Redesigned to make every day unique
Transformed to create a new aura of luxury and prestige.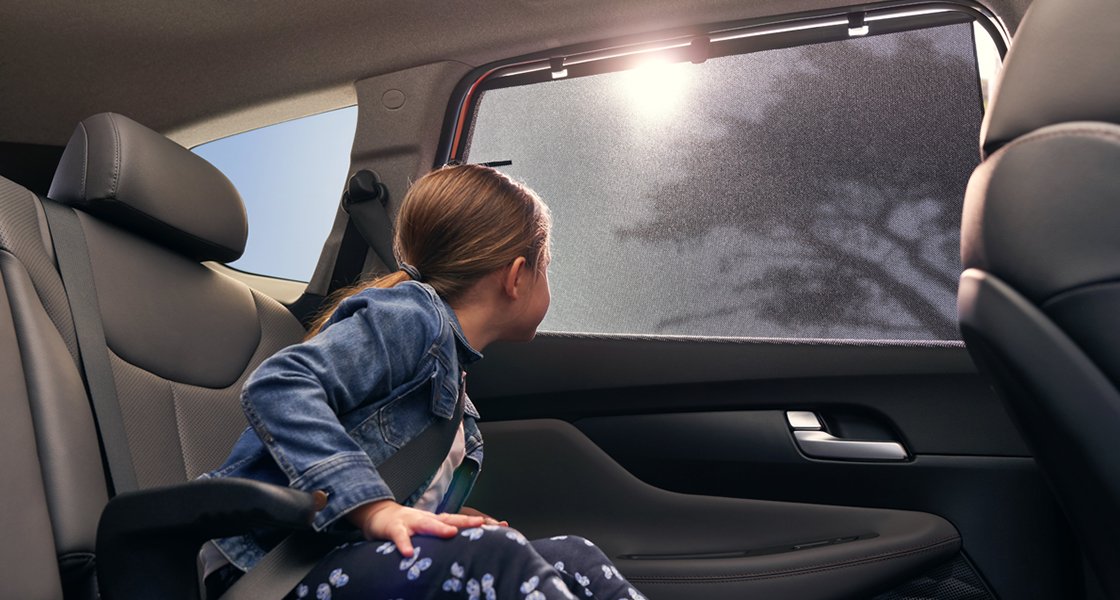 Exit assistant with electric lock for children
The Hyundai Santa Fe detects vehicles approaching from the rear and keeps the child safety lock active, preventing passengers from leaving.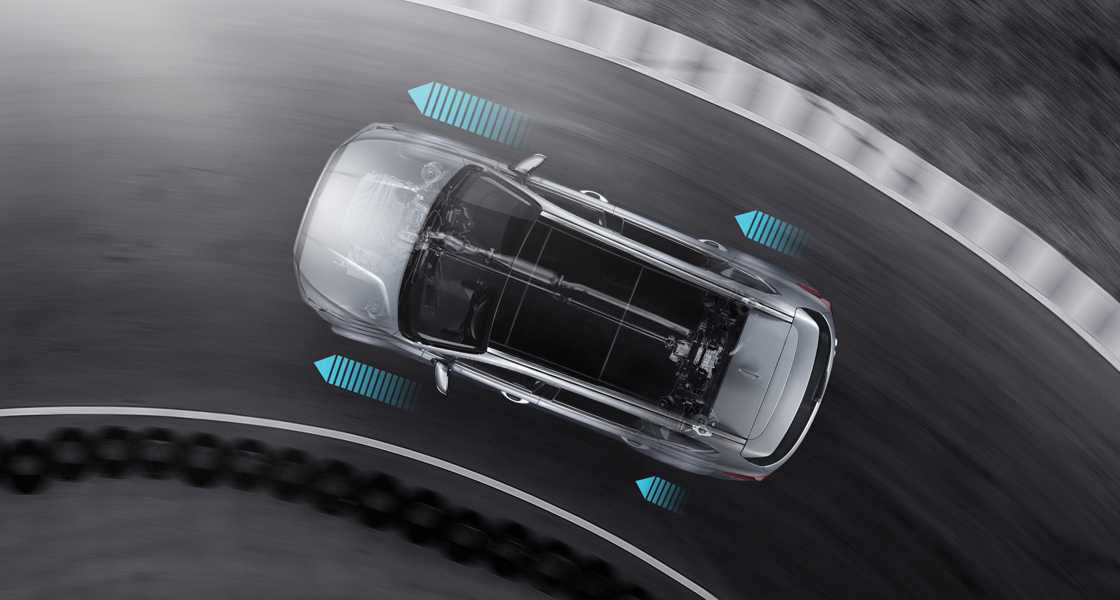 Traction Control System (TCS)
This system continuously monitors acceleration and road conditions. If the system detects that one of the tires spins without traction, it adjusts the acceleration and traction so that the vehicle moves correctly.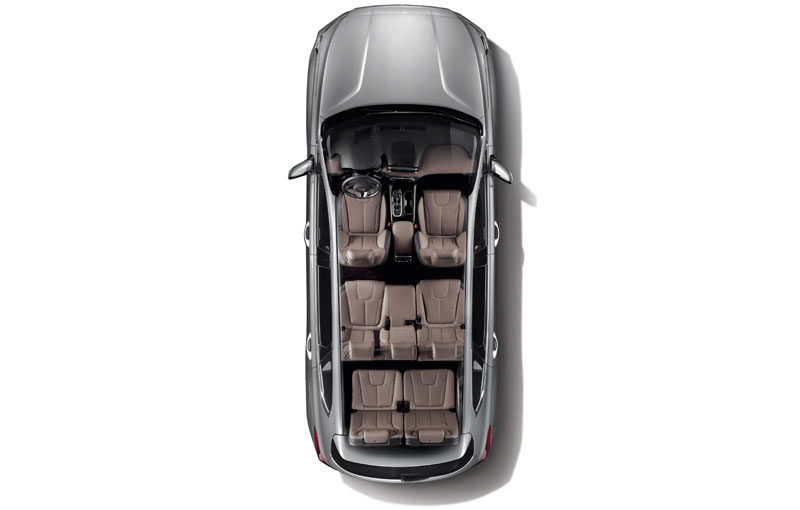 Best in class in space
Regardless of your family size, whether you like to picnic, play golf, or camp, the seven-seat Hyundai Santa Fe gives you all the flexibility you need and offers multiple seating configurations to suit your needs. Only available in selected regions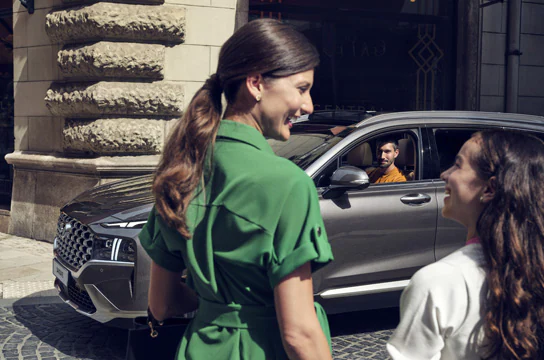 Making every day comfortable
The best in balancing road performance and driving comfort.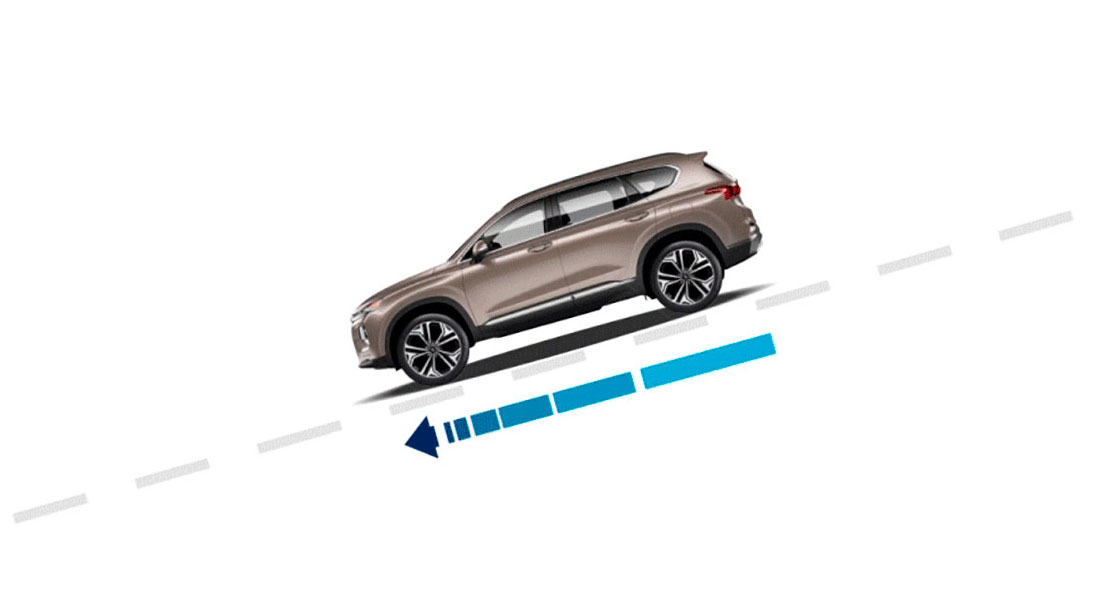 Downhill Brake Control (DBC)
This system automatically applies a light force that reduces speed to prevent descent.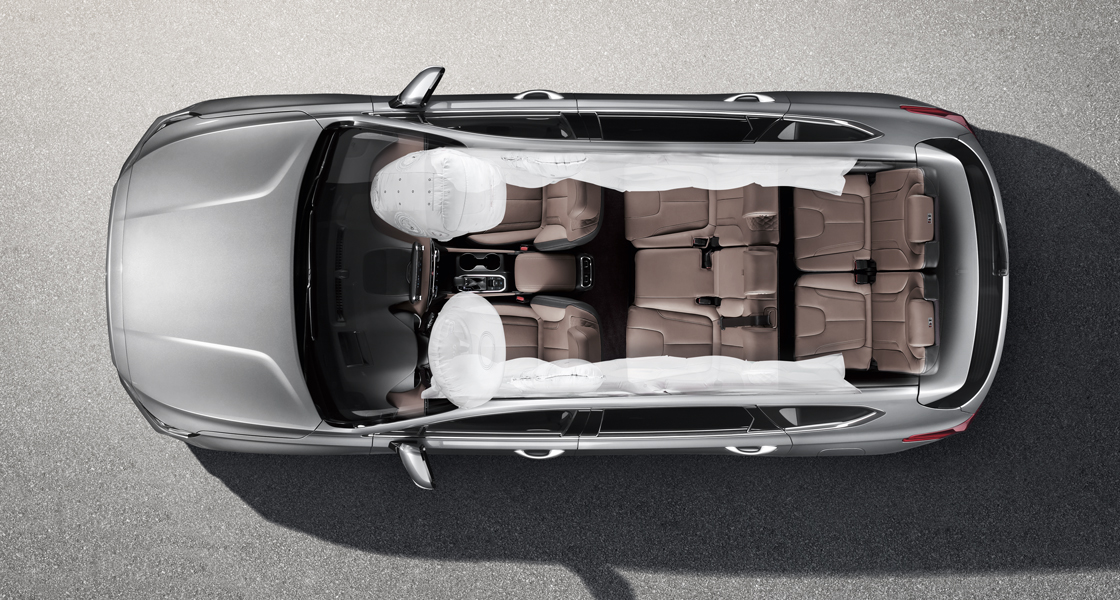 6 Airbag System
The Hyundai Santa Fe is equipped with front, front, side and curtain airbags to minimize potential collision injuries. It also includes a driver's knee airbag.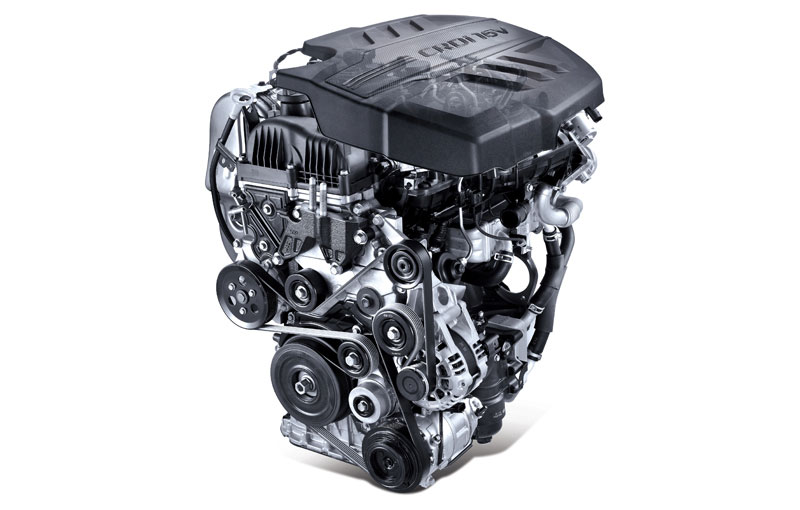 Engines
You'll be able to equip the Hyundai Santa Fe with a powerful diesel engine available with different gearboxes and transmissions. This is possible thanks to improved combustion and minimization of friction losses. Only available in selected regions
Highly modern style.
The look is modern and elegant. The feeling, confident and capable. From its aggressive new face to its sleek new lighting signature, Santa Fe does it right from every angle.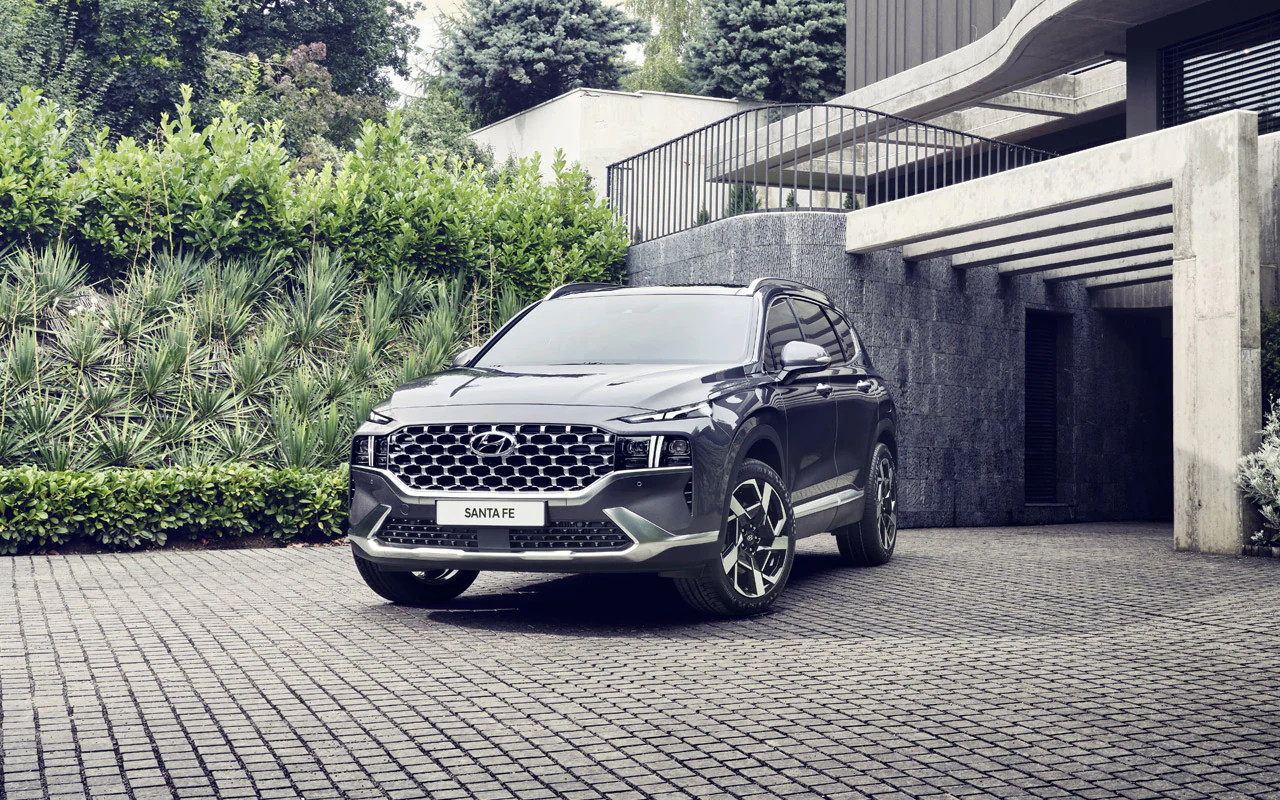 Frontal
The new front stands out in which all the prominence is taken by the huge and risky grill.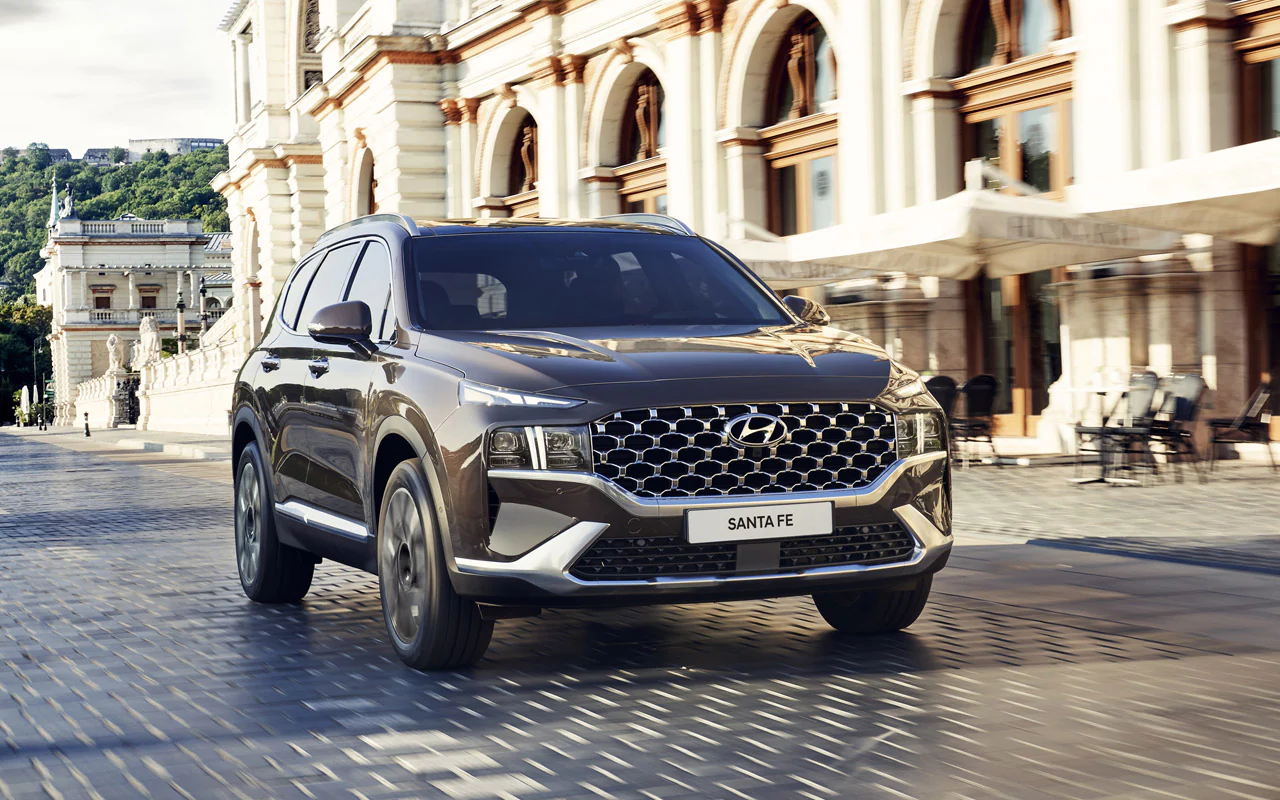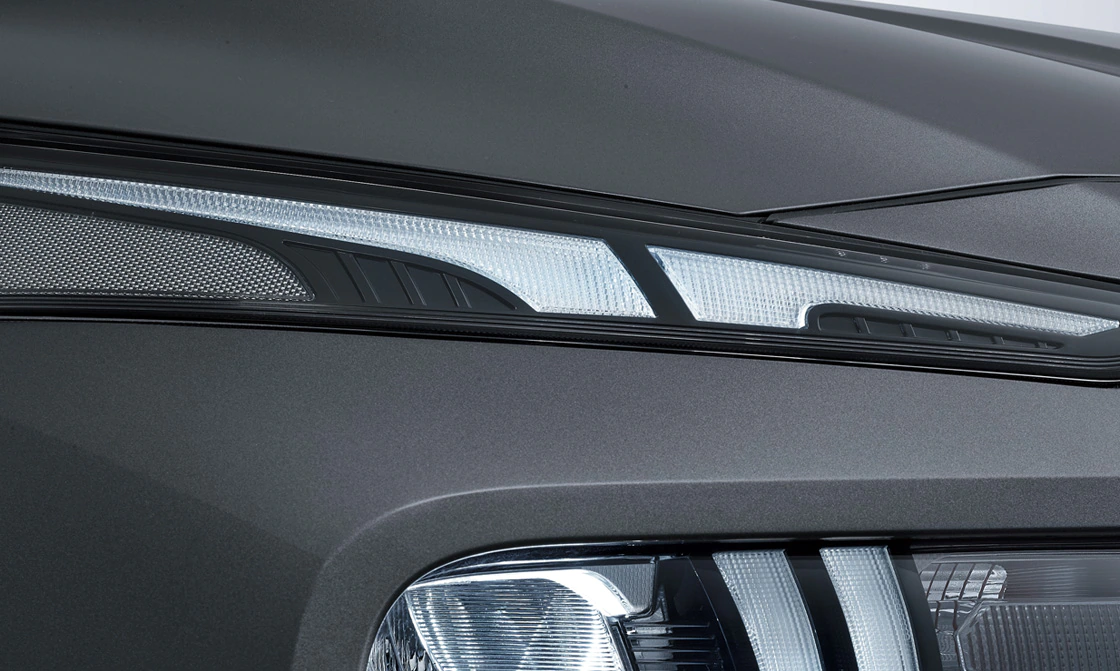 T-shaped lights
The T-shaped lighting provides a very distinctive light signature that, day or night, instantly identifies the new Santa Fe.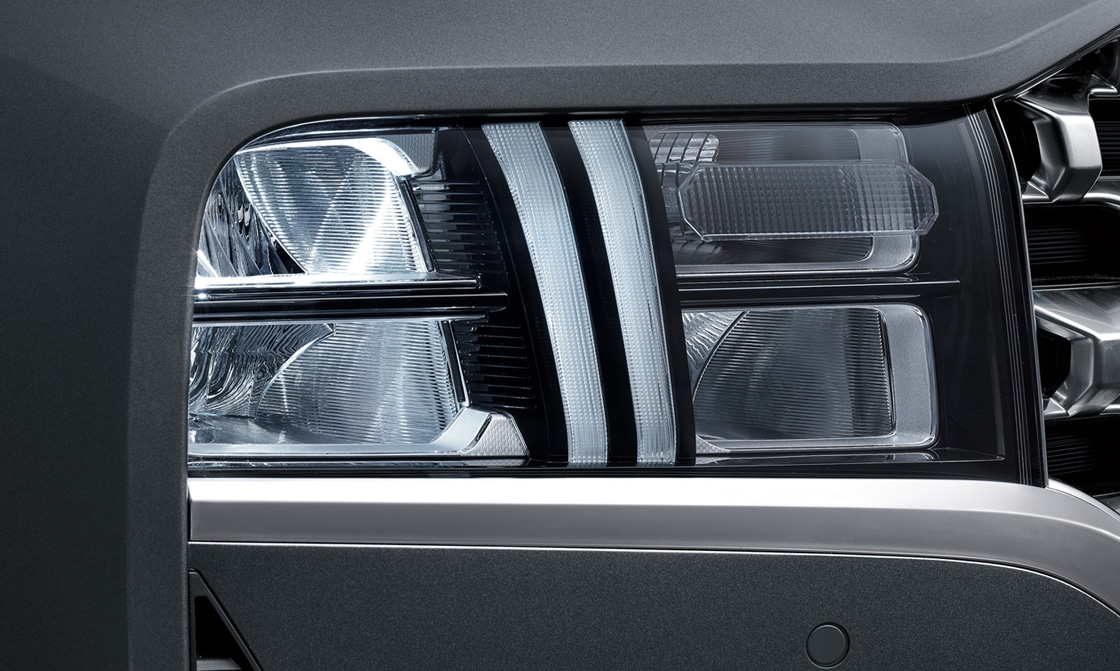 Fog lights with LED daytime running lights (DRL)
LED Daytime Running Lights (DRL) provide a stylish appearance while enhancing daytime driving safety. Plus, integrated fog lights provide maximum visibility to keep you safe in any weather.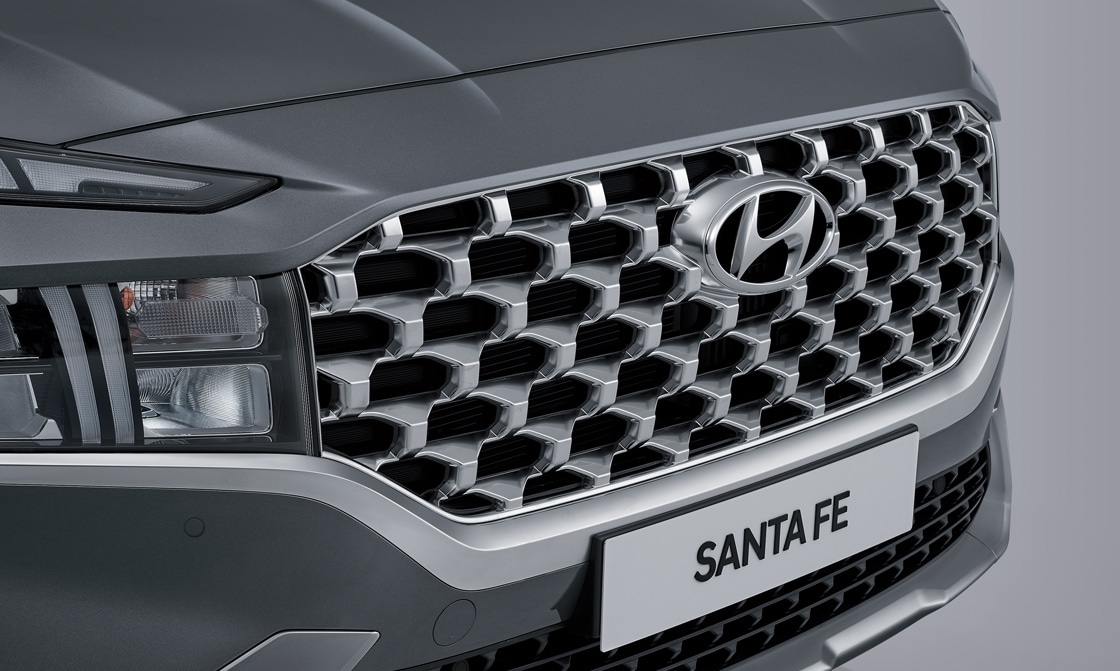 Cascade Grill
The cascading grille design tapers towards the headlights and continues its evolution with a new mesh-like geometry and a dimensional chrome finish that adds superior qualities and a strong, broad appearance.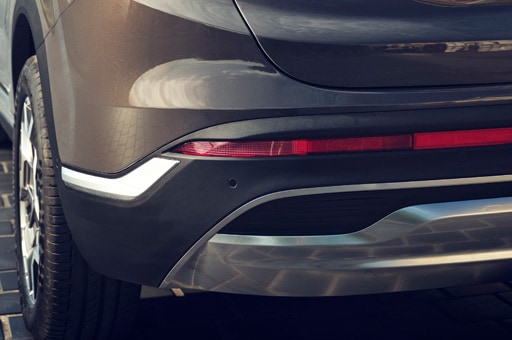 Rear bumper skid plate
The lower reflective strip and skid plate are nearly integrated into the rear bumper, creating a low, wide look while providing a touch of refinement.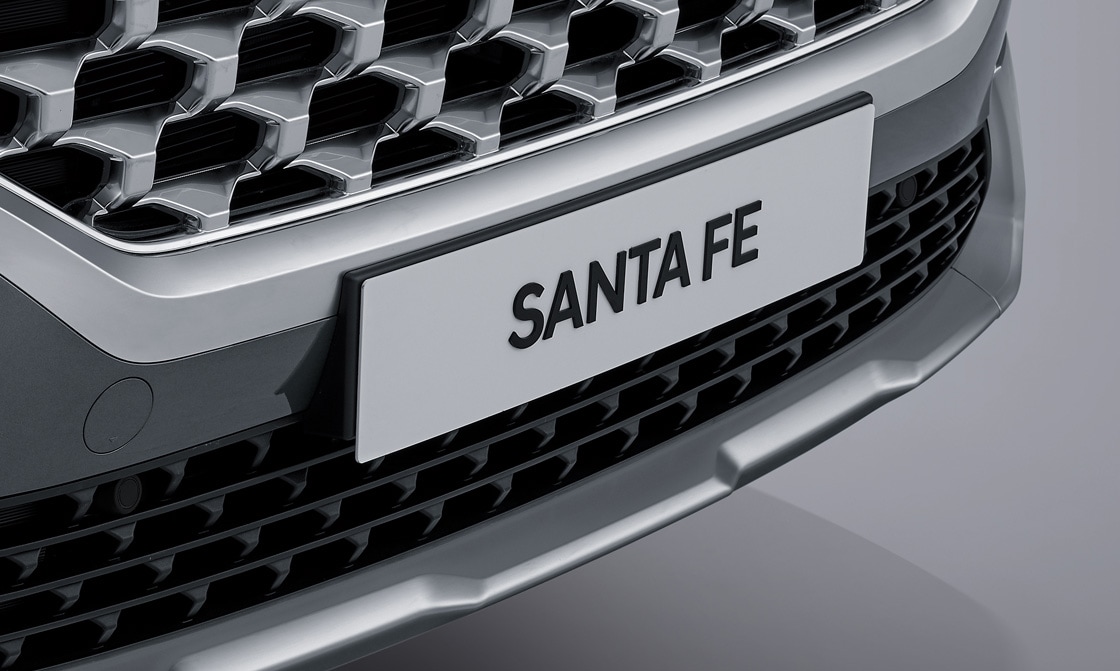 Front Bumper
The 3D contours of the bumper ripple with musculature, particularly the U-shaped lower section that evokes the power of a huge vise for a strong and stable look.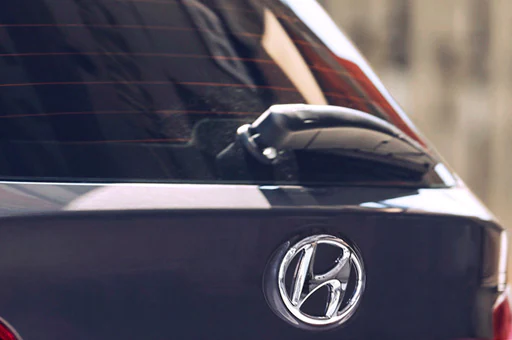 Rear Wiper
Rear wipers that cover more area help you see better in bad weather.
Space for everyone. Style for you.
Inside, the fresh new Santa Fe design feels generous in space; to travel with the family, rest and relax.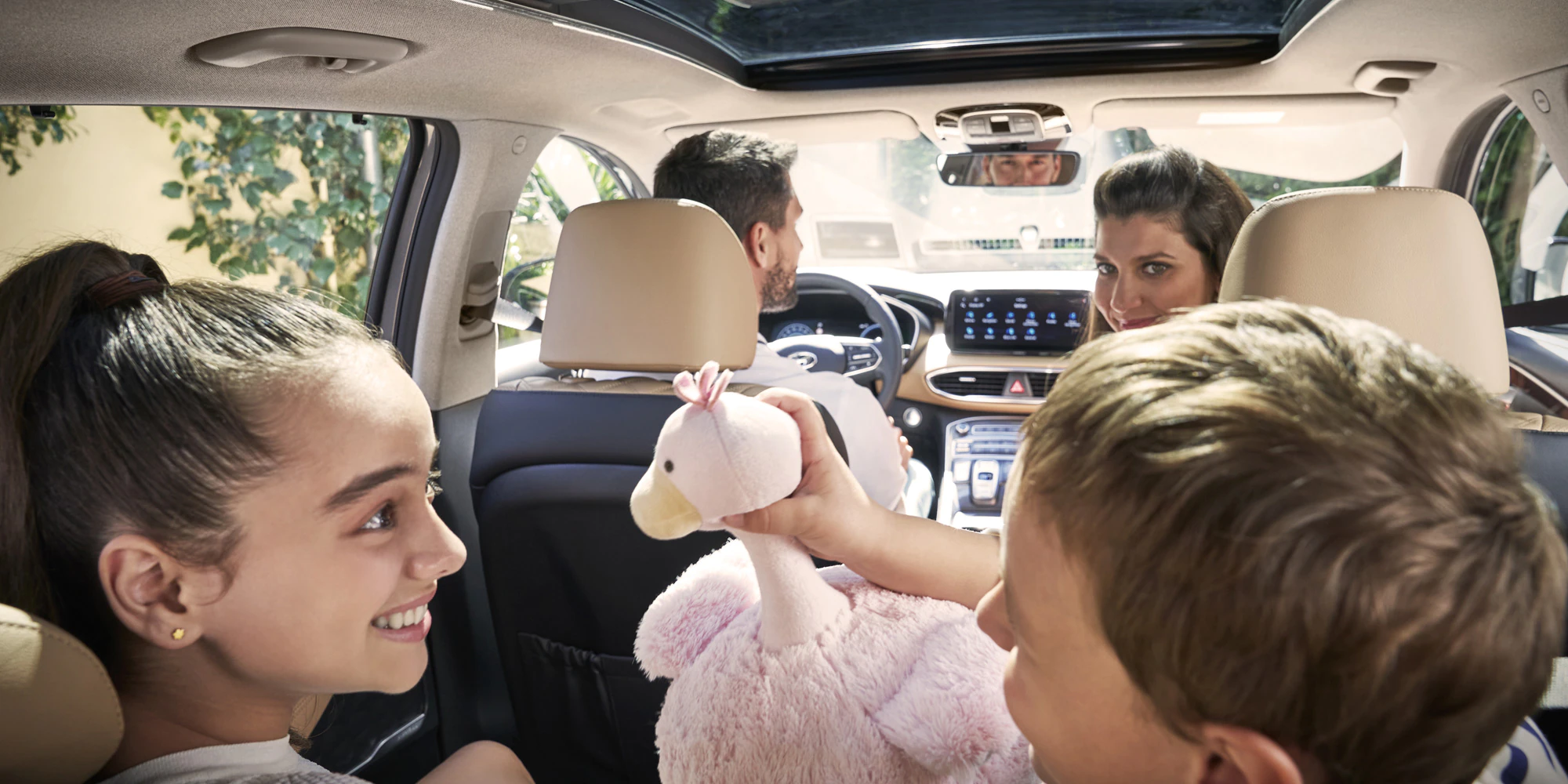 Experience from within
The Hyundai Santa Fe has an interior space that adapts to you and your family, with a futuristic design and large capacity in the trunk.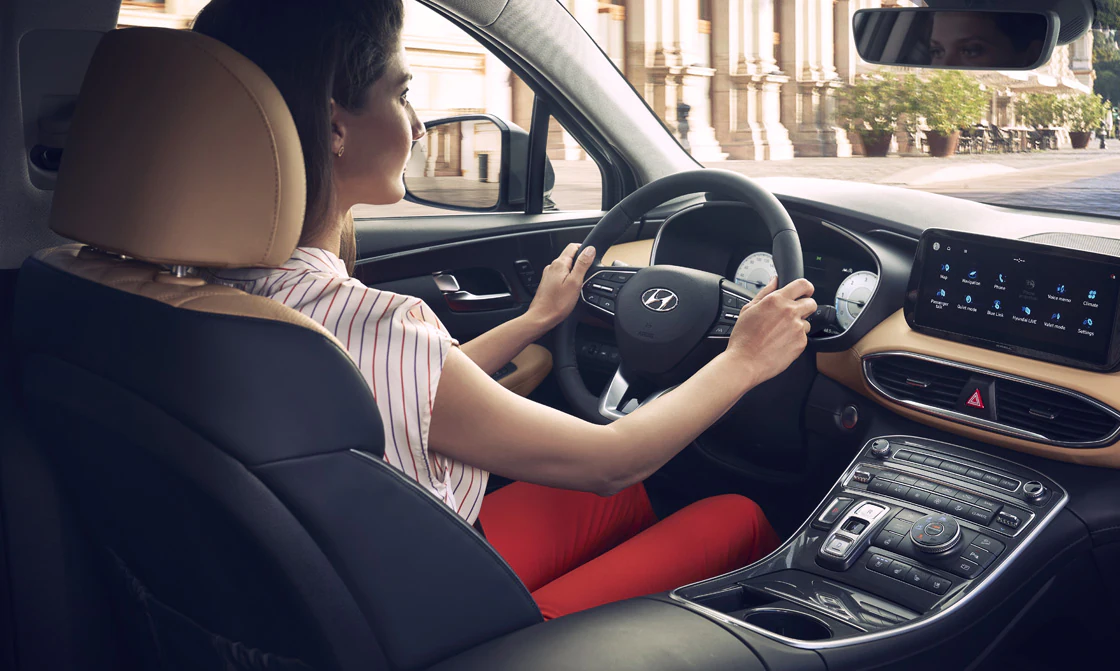 Attractive and premium inside
A premium space that outshines the competition by radiating pure luxury and high-tech.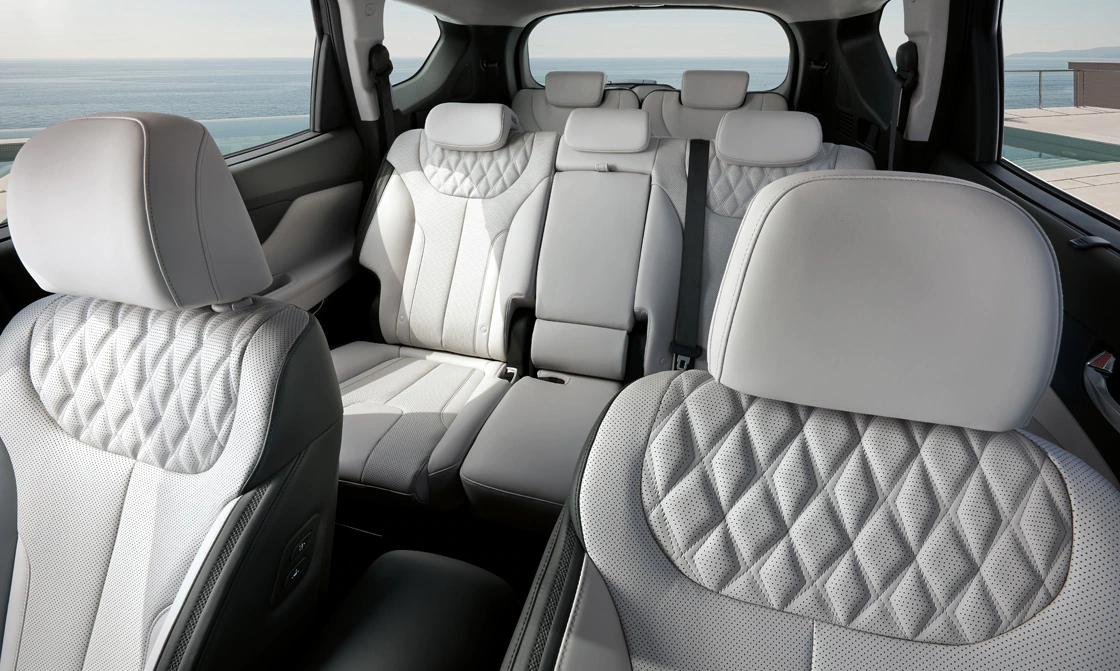 Colors that give life to the interior
With three classy color options; Black, Beige or Burgundy, you can keep the interior of your Hyundai in the color that makes the most sense to your experiences and your lifestyle.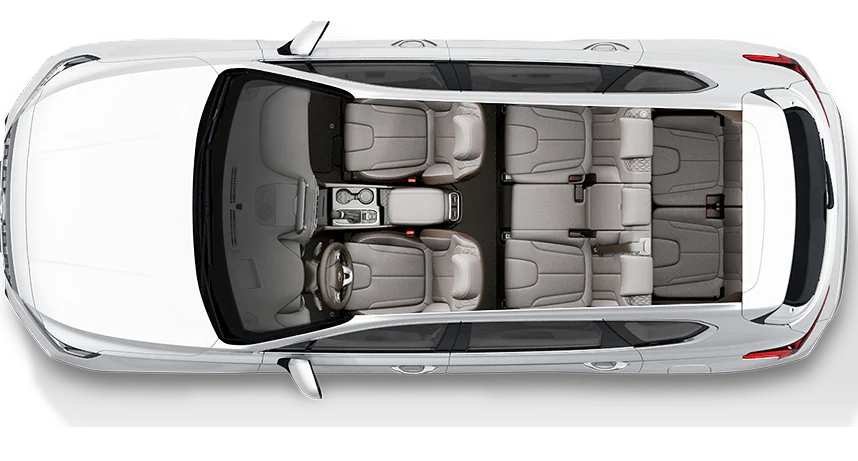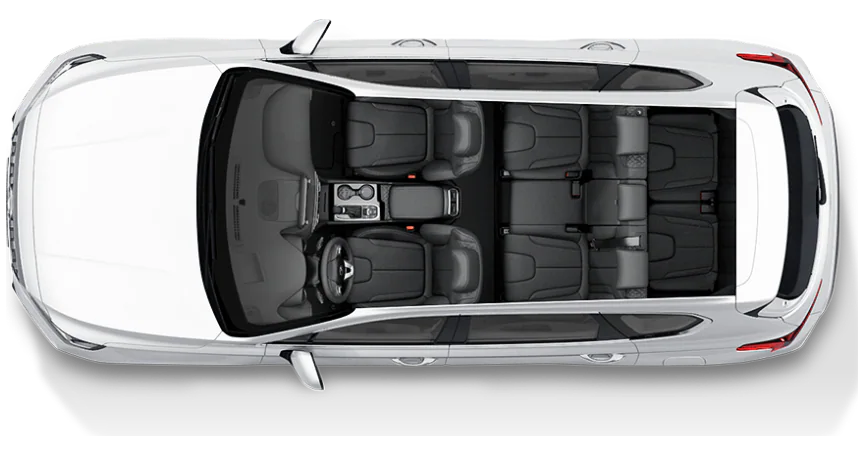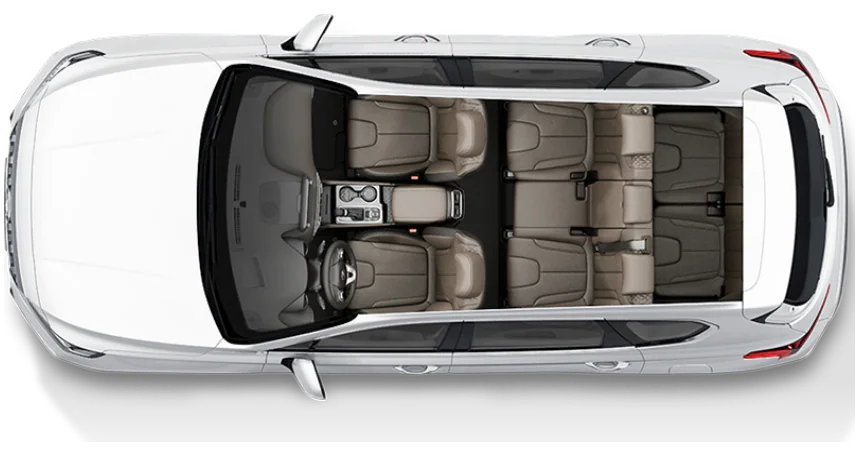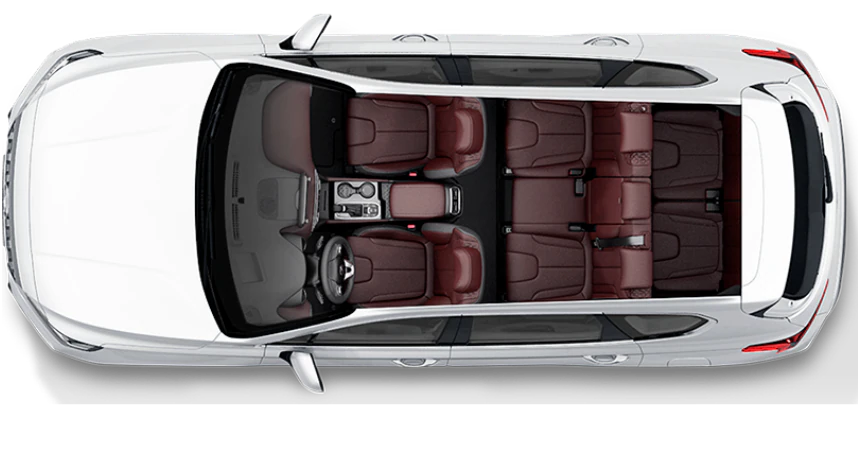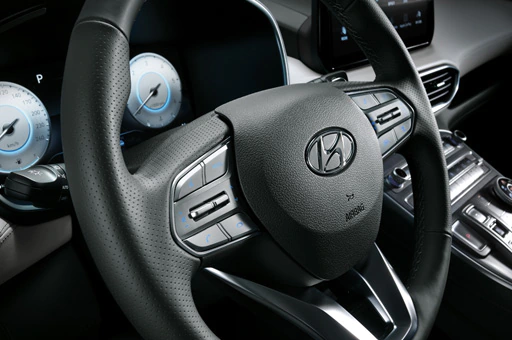 Control at your fingertips
The premium-style steering wheel includes ergonomically positioned remote control buttons so you can control vehicle systems while driving safely.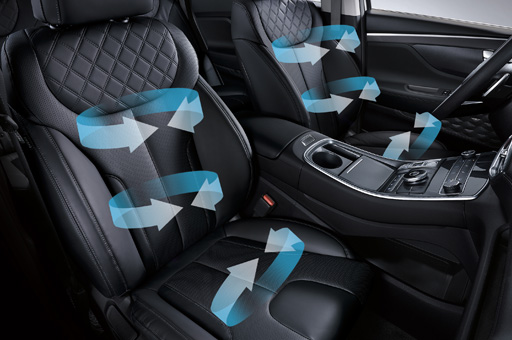 Heated seats
Warm up in the cold, cool off in the summer. The small perforations in the seats allow them to be heated and cooled optimally, providing greater comfort on long journeys.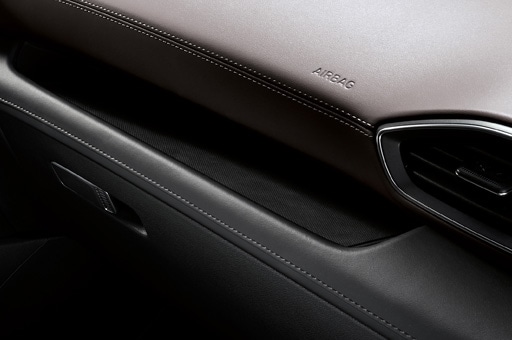 Custom leather finishes
You will feel the attention to detail in the high quality materials used in the cabin. The supple leather with stitching creates a refined and tailor-made atmosphere for the Hyundai Santa Fe.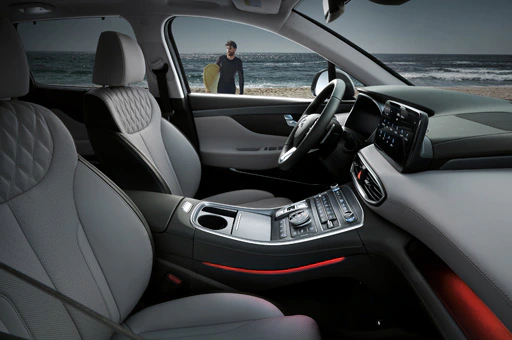 Ambient light
With a spectrum of 64 colors to suit your needs, the ambient lighting brings a touch of luxury to the interior cabin.
Various power options Easily controlled.
The powerful driving performance of Santa Fe has a wide range of options, such as dynamic or comfortable driving, depending on the road conditions.
Santa Fe also automatically recognizes the core driving trends of different family members, offering optimal driving modes for each driver.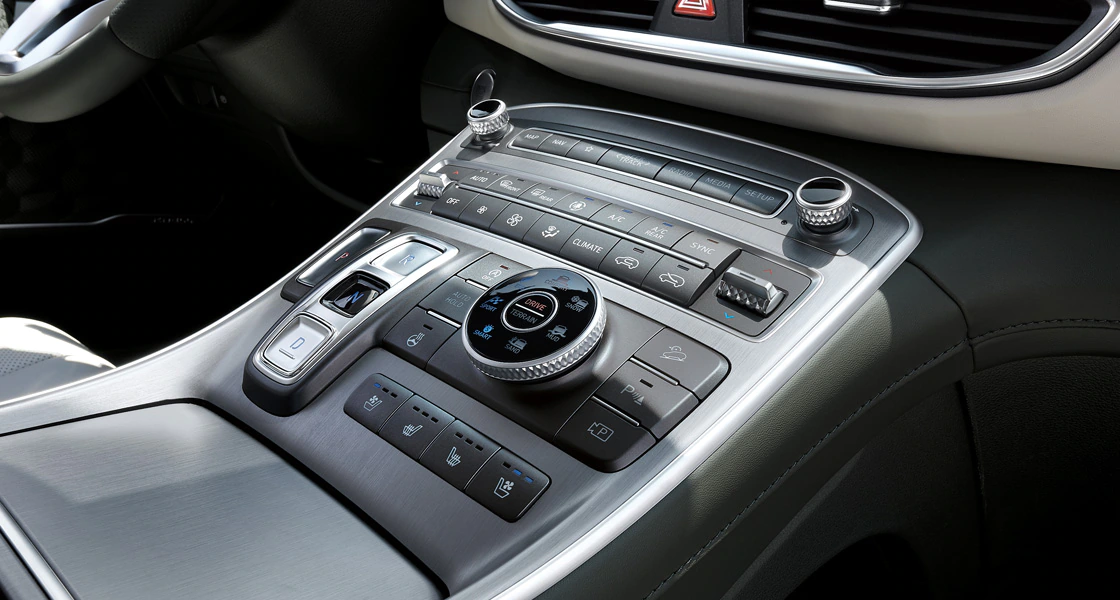 Smart console with broadcast buttons
The center console stores the transmission buttons all in one place, helping the Santa Fe be more efficient while maintaining premium styling.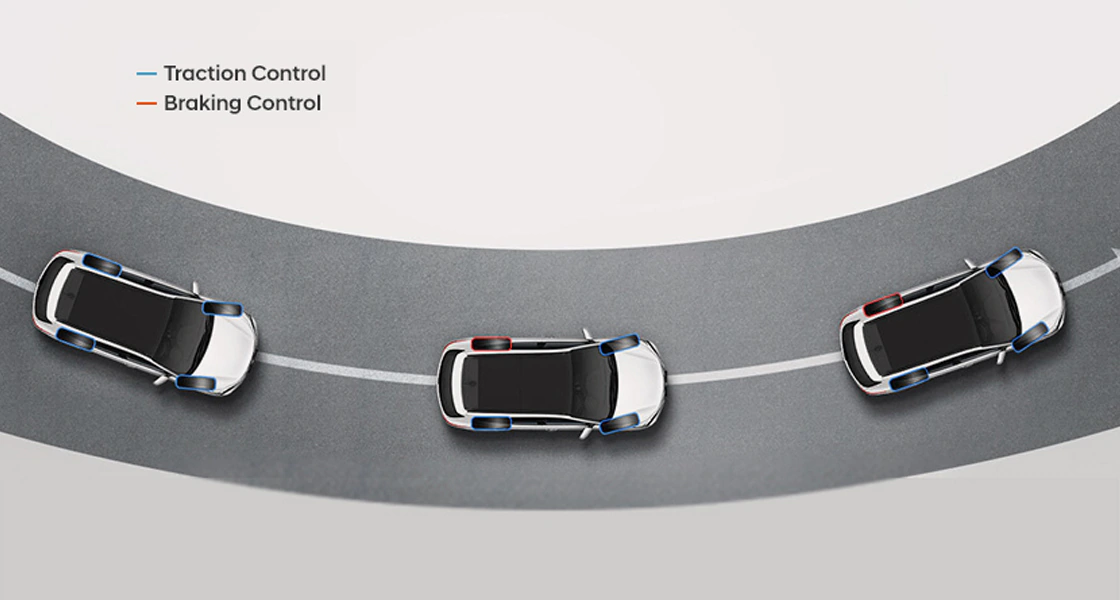 Advanced Traction Cornering Control (ATCC)
While accelerating in a corner, Advanced Cornering Traction Control (ATCC) applies a braking torque to the inner wheel of the drive axle, to prevent understeer of the vehicle. Along with Electronic Stability Control (ESC), it provides agility and cornering stability.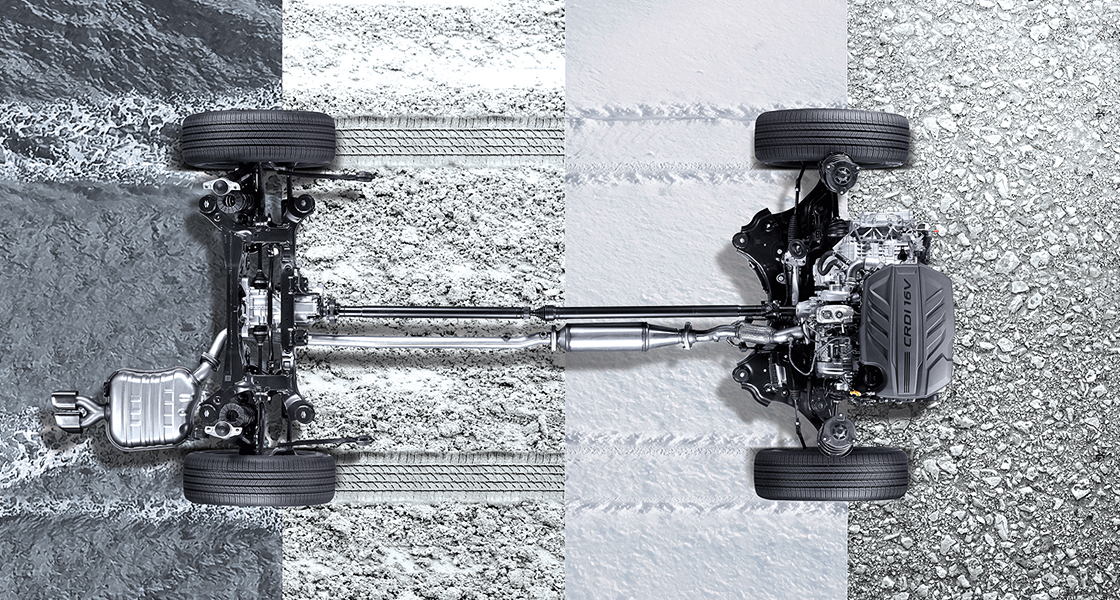 Front and rear suspension
A McPherson-type front suspension provides better handling and greater stability during driving and braking. A multi-link rear suspension makes it possible to create a more spacious rear compartment than cars with rear wheel suspension, providing a more comfortable ride.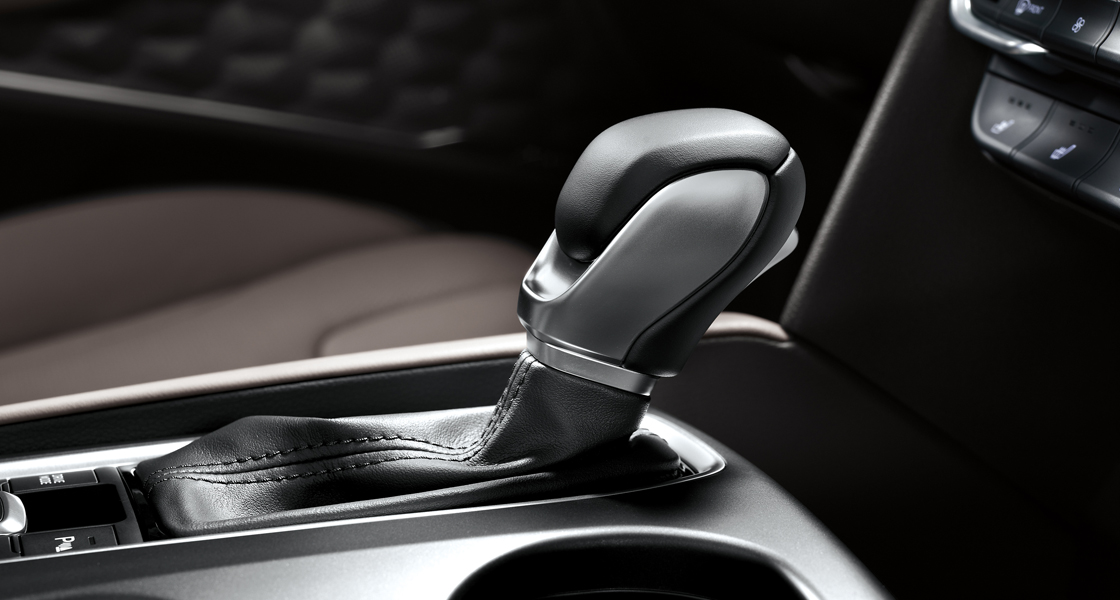 Six-speed automatic transmission
Low maintenance, very convenient. The six-speed automatic transmission gives you improved intuitive operation, night-driving ability, illuminated position indicators and the advantage of not having to change the oil in your transmission.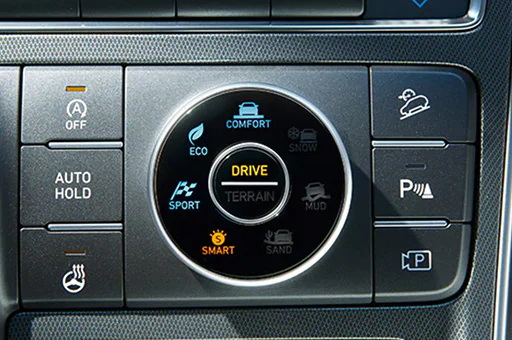 Drive Mode
Simply turn the knob to select the mode that suits you best: COMFORT for everyday driving, ECO for optimal fuel efficiency, SPORT for faster acceleration or SMART, which automatically adjusts gear change intervals according to driving patterns Recent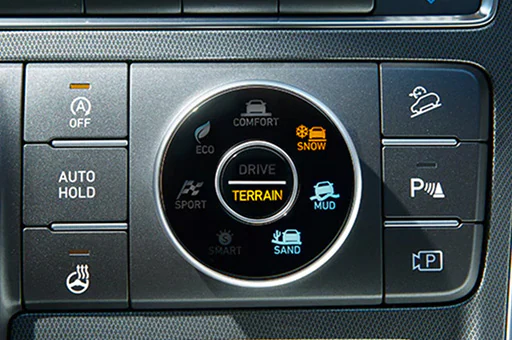 Multi terrain control
When the going gets tough, the Snow, Mud and Sand modes ensure optimal tire traction on different types of rough terrain.
Traction Control System (TCS)
The Traction Control System (TCS) continuously monitors the amount of driver acceleration and road surface conditions. If the system detects that the wheels are turning without traction, it adjusts the acceleration and traction so that the vehicle can proceed normally.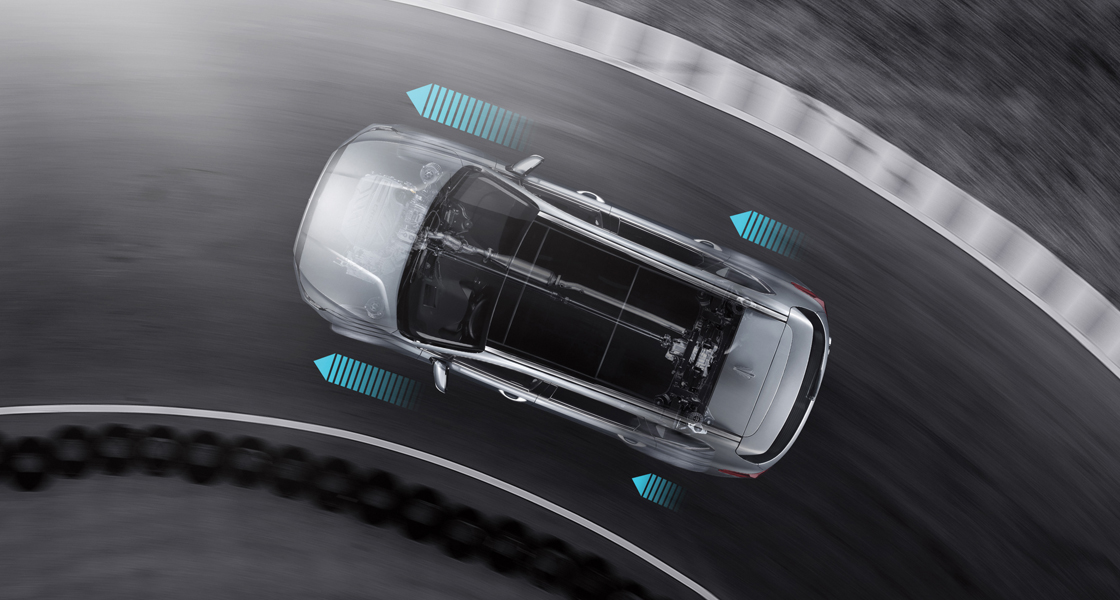 Downhill Brake Control (DBC) and Hill Start Assist Control (HAC)
Designed to tackle any incline with the force of automatic braking on a steep incline and automatically applied brakes to prevent dangerous reverse, the new Tucson can inspire a true sense of adventure.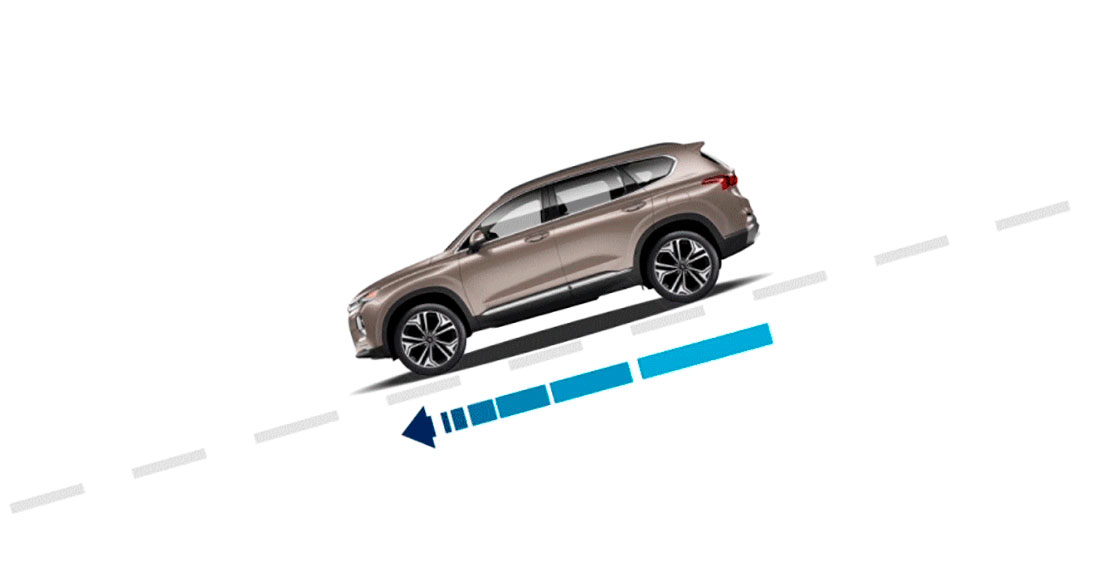 Electronic Stability Control (ESC) and Vehicle Stability Management (VSM)
Reliable Electronic stability control (ESC) keeps all wheels firm in every curve by controlling the brakes on each wheel and engine torque for optimum stability. Vehicle stability management (VSM) optimizes directional stability and keeps the vehicle on the driver's intended path by automatically controlling Motor driven power-steering (MDPS) and brakes on each wheel.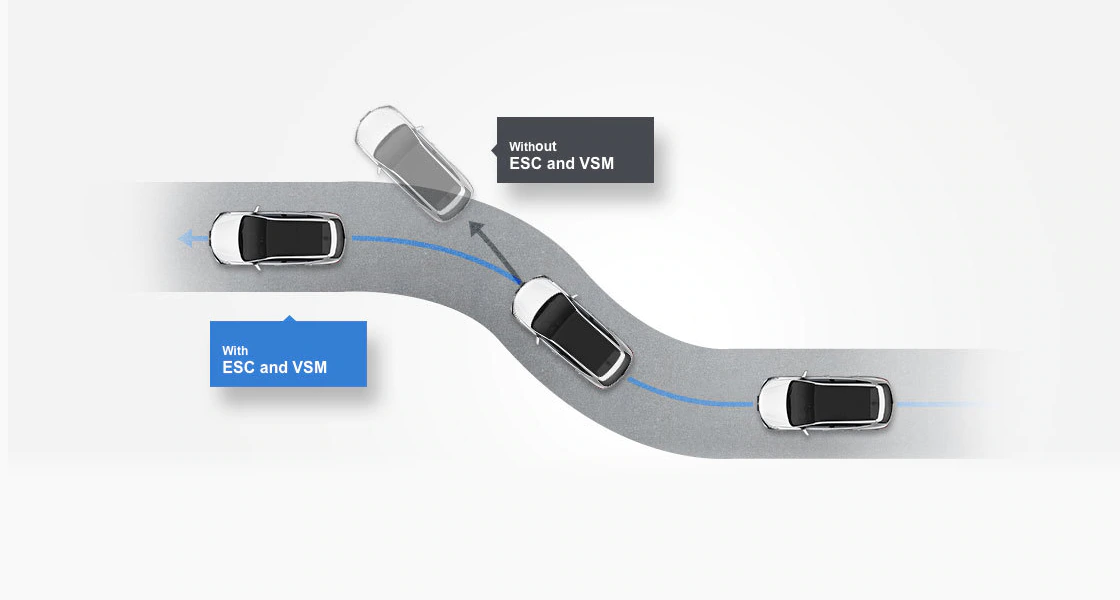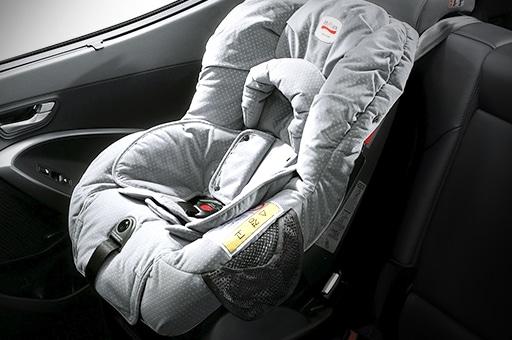 Anchoring system for children
The child restraint system has easy mounting features with locks that meet ISO standards.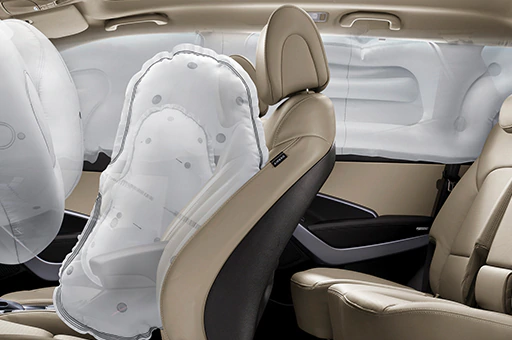 Six airbag system
The Santa Fe is equipped with front side airbags, driver and passenger airbags, as well as front and rear curtain airbags to minimize passenger injury in the event of a collision.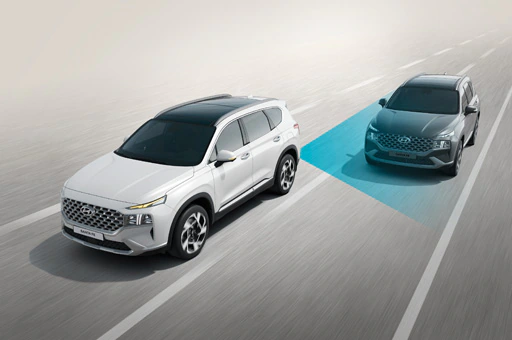 Brake Assist System (BAS)
By protecting you and your passengers, Hyundai's Brake Assist System (BAS) easily recognizes the urgency in unexpected situations and provides powerful mechanical pressure with maximum braking force to ensure your safety on the road at all times.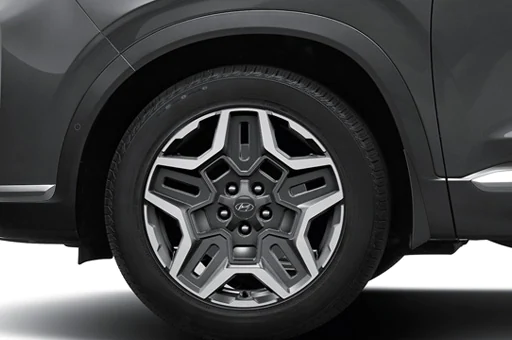 Tire Pressure Monitoring System (TPMS)
Whenever the tire pressure drops below normal, the tire pressure monitoring system (TPMS) alerts the driver with a visual warning in the monitoring group.
Just ask by mouth.
Santa Fe brings you a new level of comfort and safety: available technology that hears your voice and does exactly what you ask for. No other vehicle in its class has this handy feature. So roll down the windows, open the trunk, heat the seats, and many other useful things. All you have to do is ask.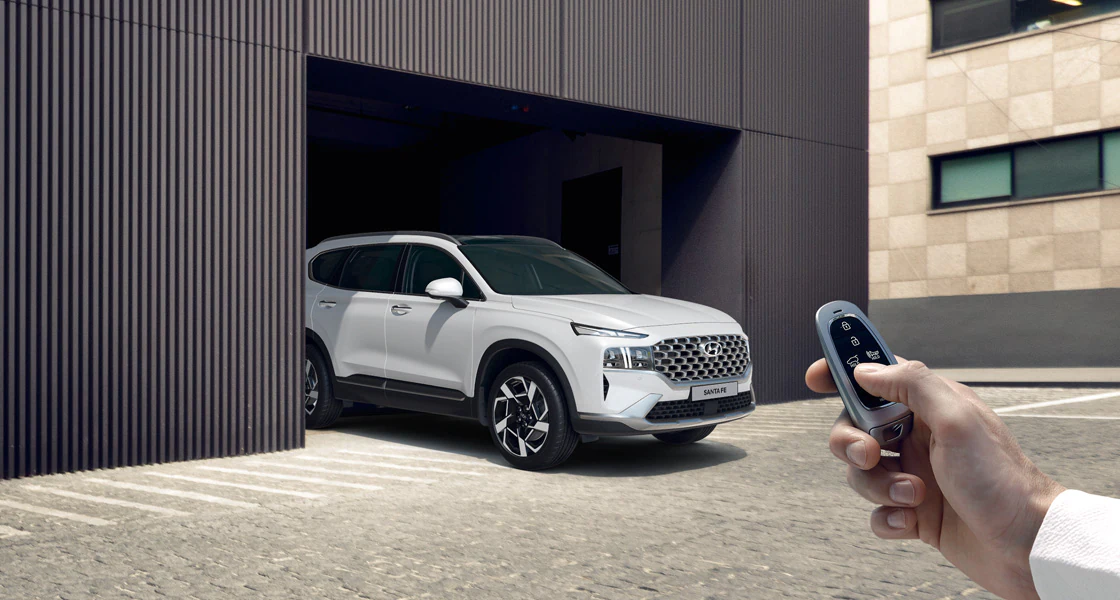 Remote smart parking assistant
As big and spacious as it is, Santa Fe has no trouble getting in and out of tight spots. With the available Remote Smart Parking Assistant, you can exit your vehicle and simply press the button on your smart key, and Santa Fe will enter from a parking space on its own.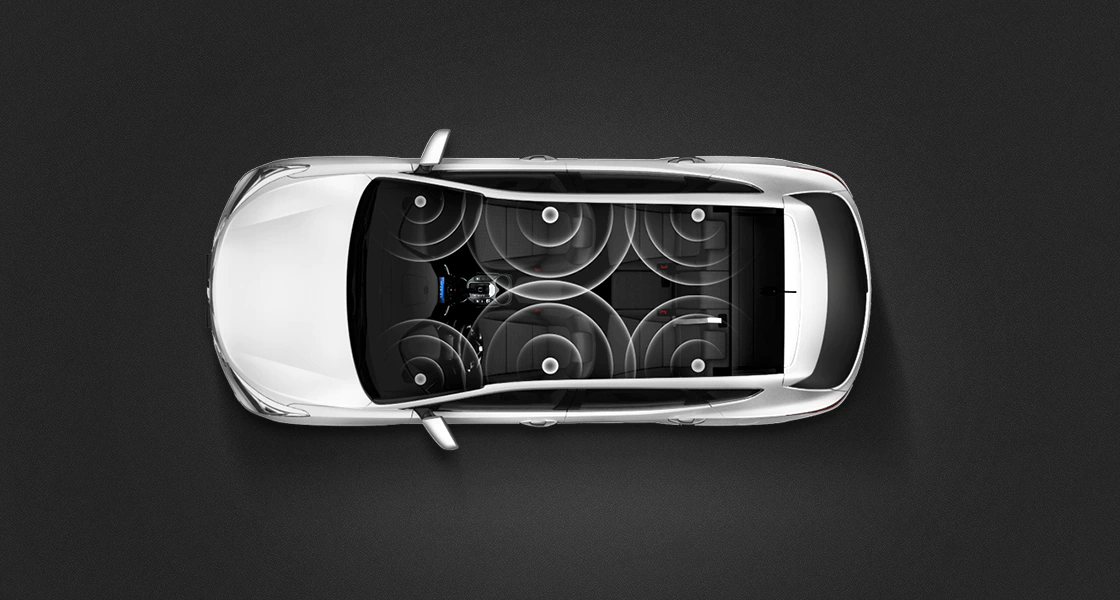 Sound system with six speakers
Acoustic signal processing technology improves sound calibration and stereo surround effect. Enjoy a better emotional quality from any seat in the truck.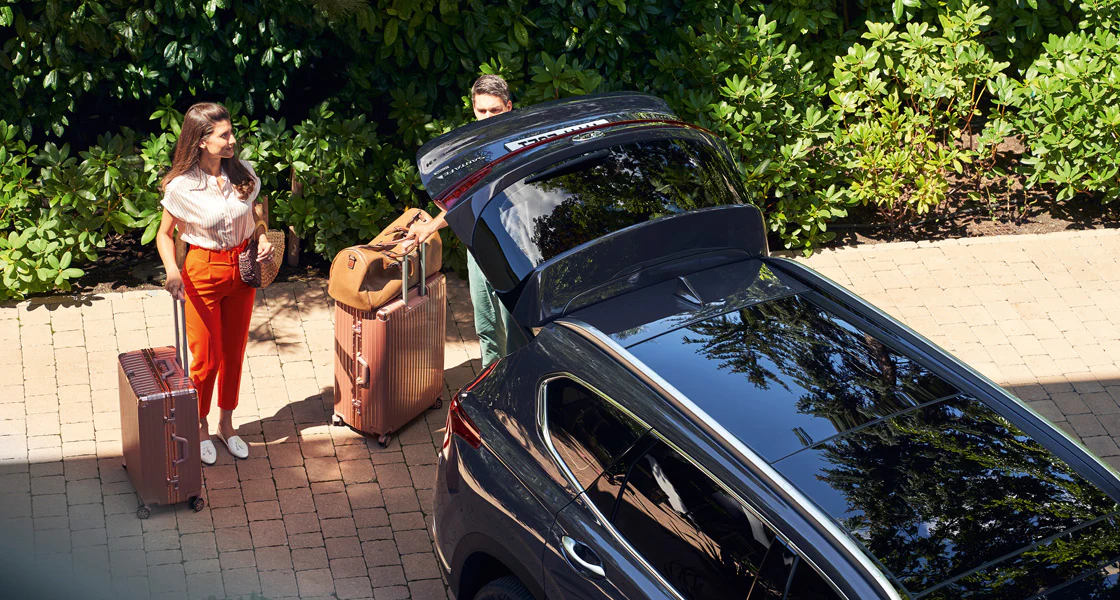 Smart tailgate system
The smart tailgate system, a feature that makes your trunk open automatically if you have the smart key and stay behind the car for around 3 seconds, is an innovative technology for the comfortable life of drivers when loading and unloading their luggage .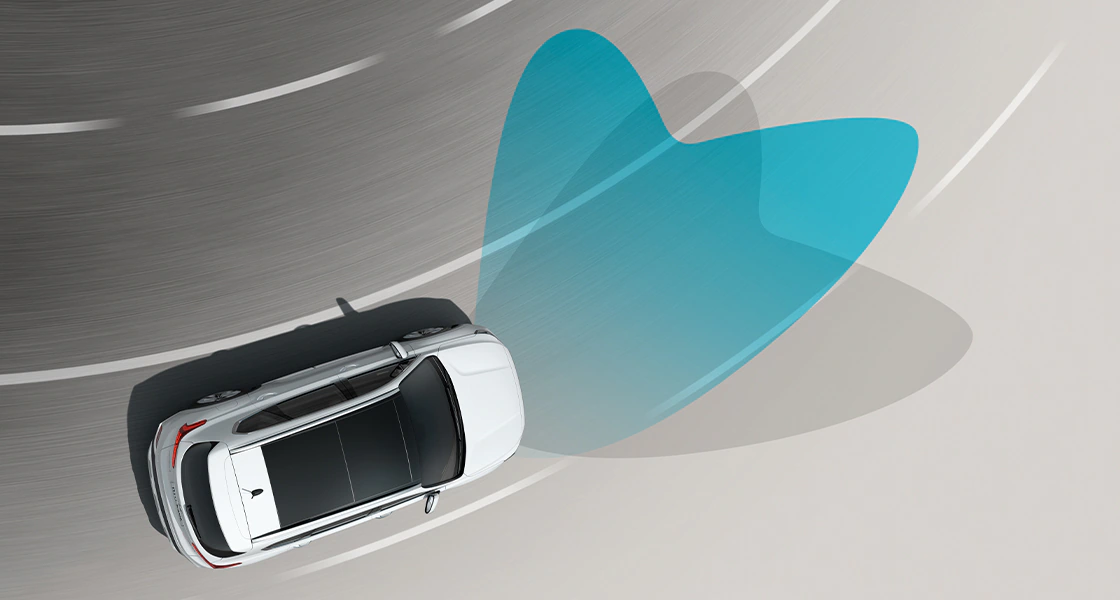 Dynamic cornering light (DBL)
HID headlights adapt to vehicle speed and dynamic steering wheel movement to optimize driving visibility and safety at night.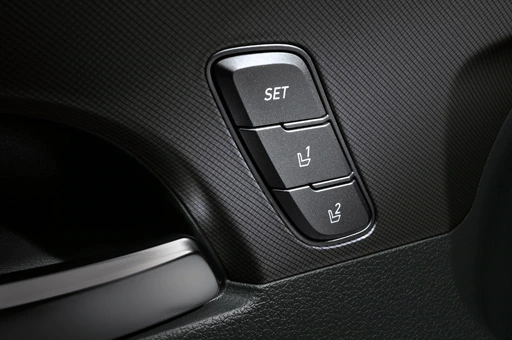 Integrated memory system (IMS)
For added convenience, the IMS memorizes up to 2 drivers 'preferred seats, exterior mirrors, and HUD settings, to instantly set drivers' preferences at the touch of a button.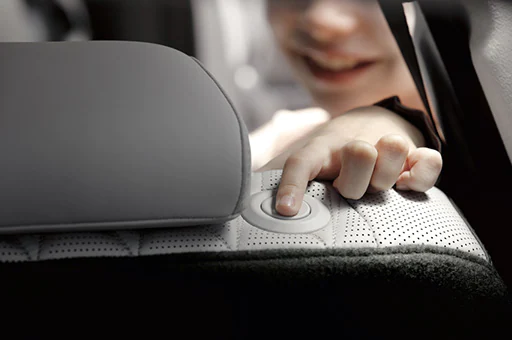 One-touch fold
The One-Touch Fold feature allows you to fold the second row seat easily at the push of a button.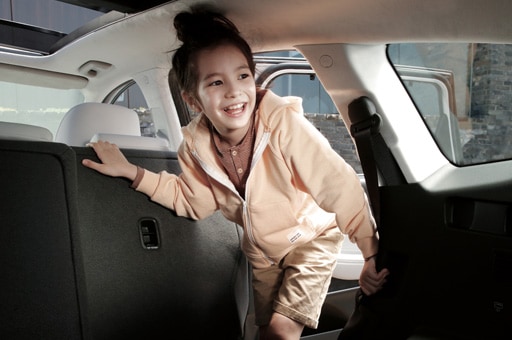 Easy Access
Get into the car easily by holding the handlebars at the rear of the second row seats.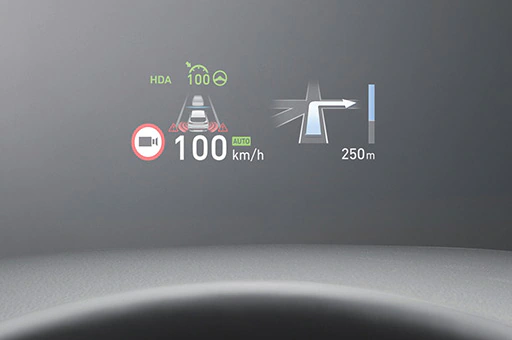 Head Up Display (HUD)
The new front display helps keep you safe by projecting important information directly onto the windshield.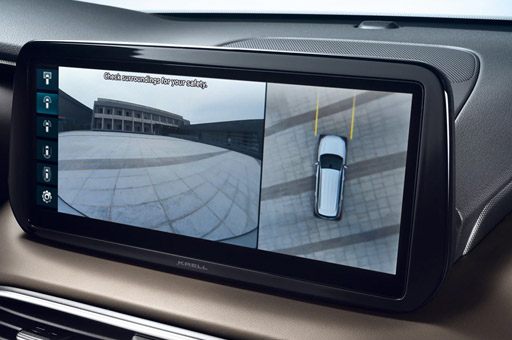 360 view monitor
4 HD cameras mounted on the front, sides and rear of the vehicle show the surroundings in real time.
Wireless Smartphone Charger
Located in the center console, a wireless charging pad allows you to easily charge a compatible smartphone without the use of cables.
Motor
Engine Type: MPi
Displacement: 2359
Max Speed: 190
Max Power: 170
Max PowerRpm: 6000
Max Touch: 22.9
Max TorqueRpm: 4000
Acceleration: 10.9
Braking Distance: 43
Number of Cylinders: 4
Valves of Cylinders: 16
gear: 6
driveConfig: 2WD

Transmission
Transmission Type: Automatic

Fuel consumption
Fuel Type: Gasoline
Tank capacity: 71
SANTA FE - SANTA FE EP (Santa Fe EP)
SANTA FE - SANTA FE LE DISEL (Santa Fe LE Diesel)
SANTA FE - SANTA FE LE GASOLINE (Santa Fe LE Gasoline)
SANTA FE - SANTA FE S (Santa Fe S)
SANTA FE - SANTA FE SE (Santa Fe SE)