Advanced "Dynamic Precision", with Hyundai's Fluid Sculpture 2.0 philosophy, captures the modernity of the Accent brand's sporty, cutting-edge design

Active Sketch
Possibility of displaying an active style with various exterior colors, a combination of elegant taillights and dynamic grille to express your own personality.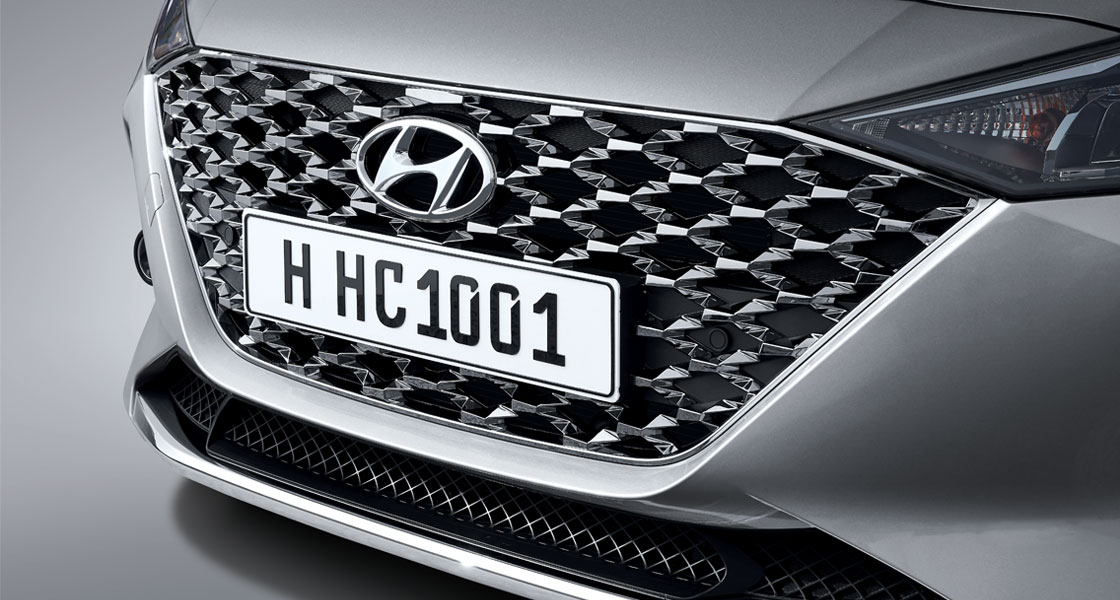 Radiator Grille

The Accent's radiator grille was exclusively improved by installing the traditionally clean and refined styling of the headlights and combination rear headlights.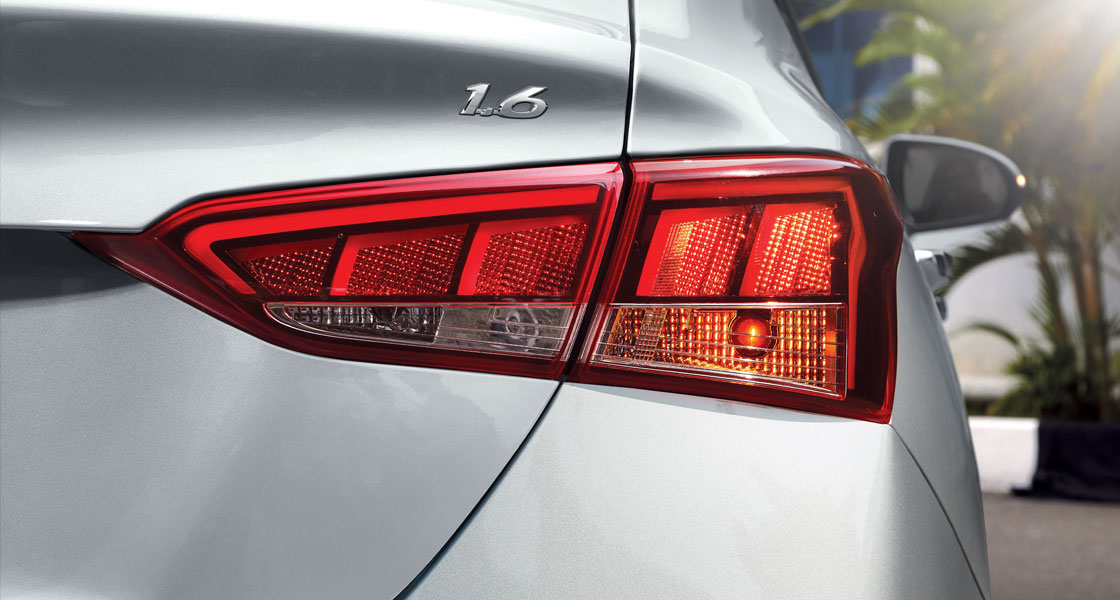 Rear combination headlights

With the harmonious design of the rear and side parts, the wraparound taillights provide highly visible illumination.
Exterior Color

Show a unique and dynamic style by adding new exterior colors such as Coffee Bean, Dazzling Blue and Misty Beige.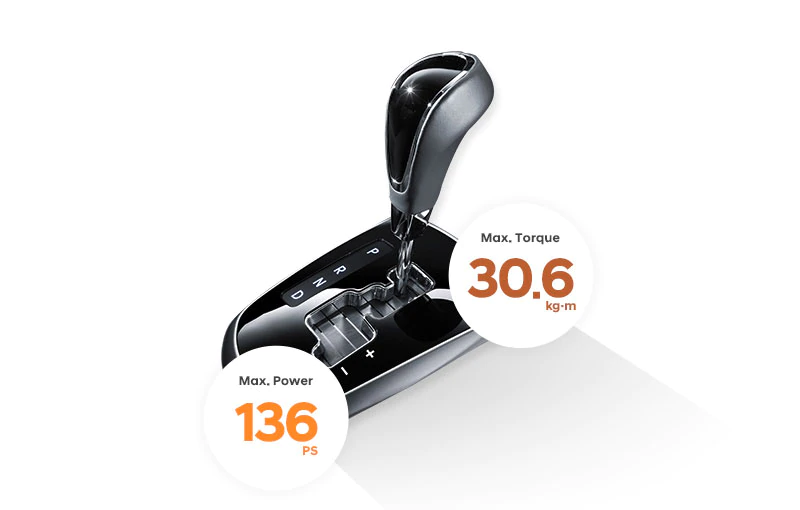 Seven-Speed ​​Double Clutch Transmission (DCT)

By applying the 7-speed dual-clutch transmission (DCT), Accent improved acceleration as the maximum power of 136 ps and the torque of 30.6 kg · m. Depending on the region, the launch time may differ.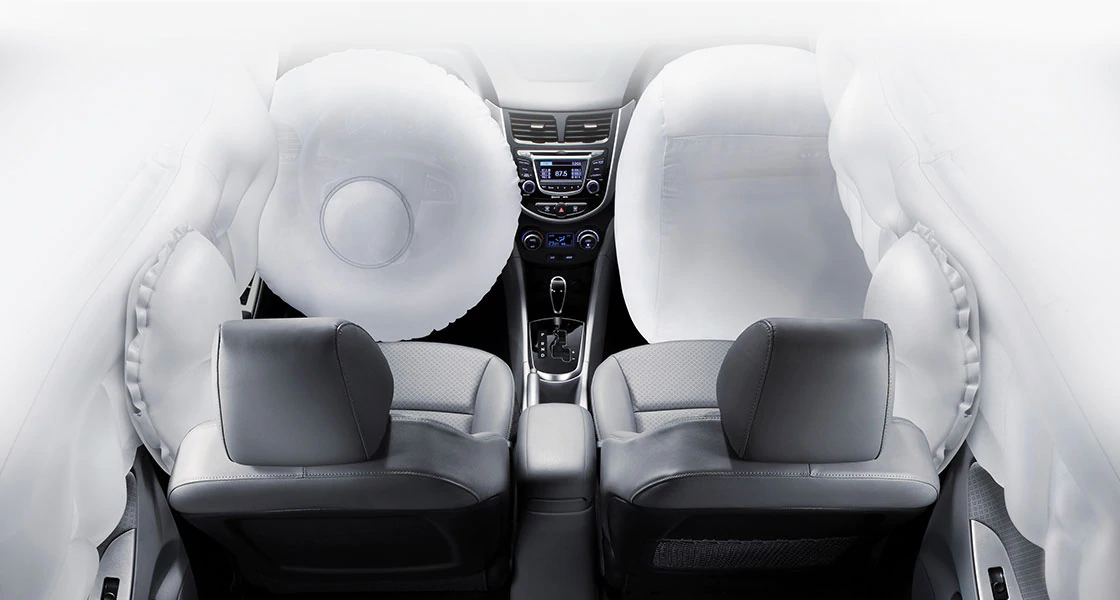 Six Airbag System
Accent features an anti-lock braking system (ABS) and six airbags for added safety: driver and passenger front, front and rear curtain, and front sides.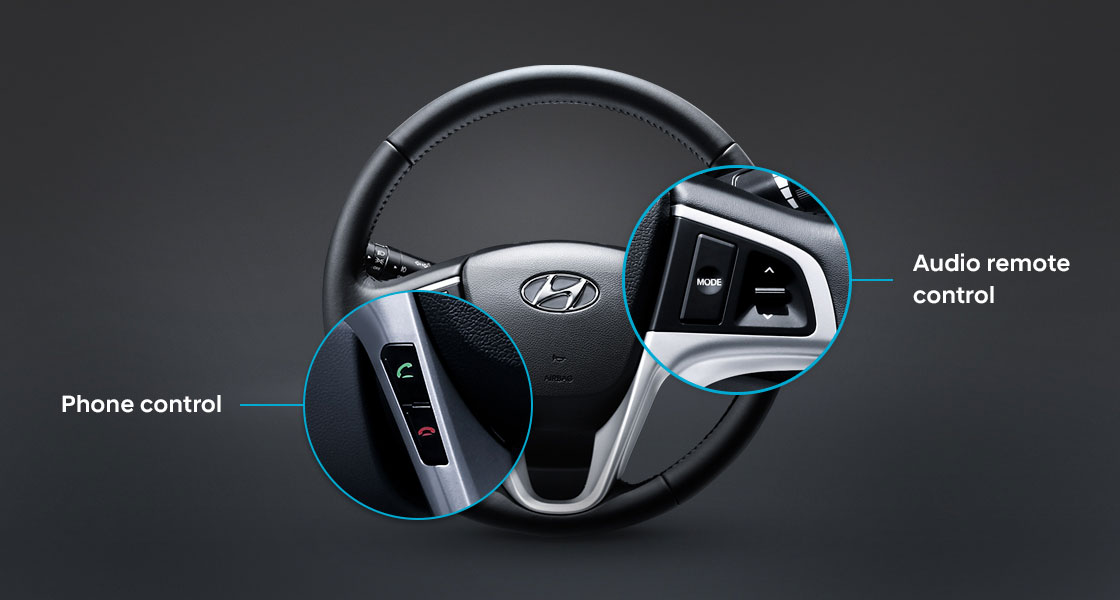 Remote control from the steering wheel
You can operate a Bluetooth-enabled cell phone from the Accent's driver's seat. You can also adjust the volume of phone calls with the remote control on the steering wheel.
Exquisitely Modern
A compact vehicle like no other. Its modernity and elegance are comparable with its excellent characteristics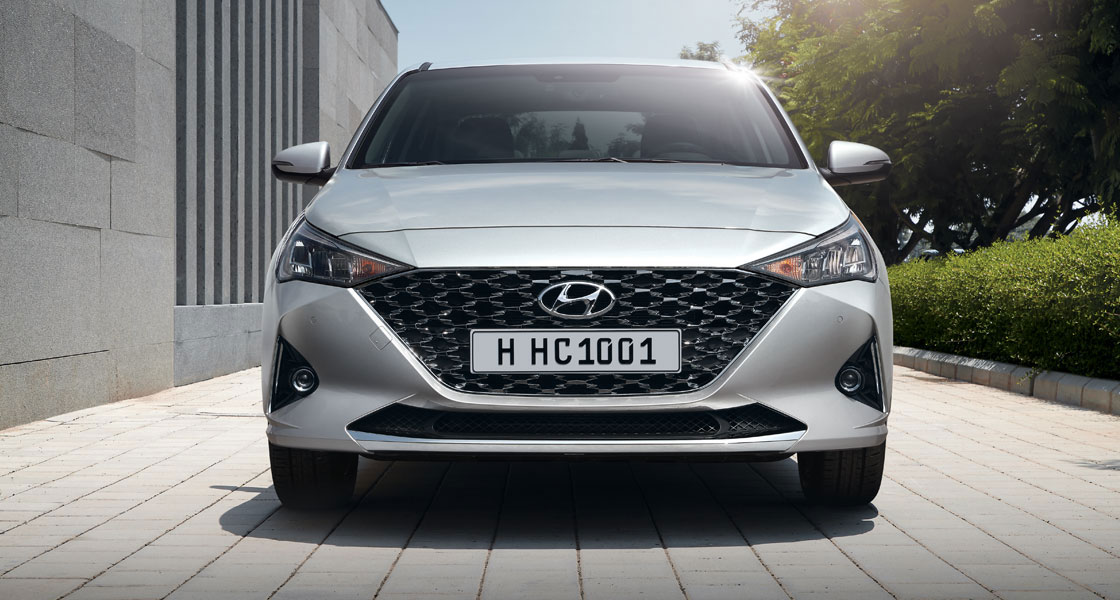 Aero-sculpted front end with parametric grille pattern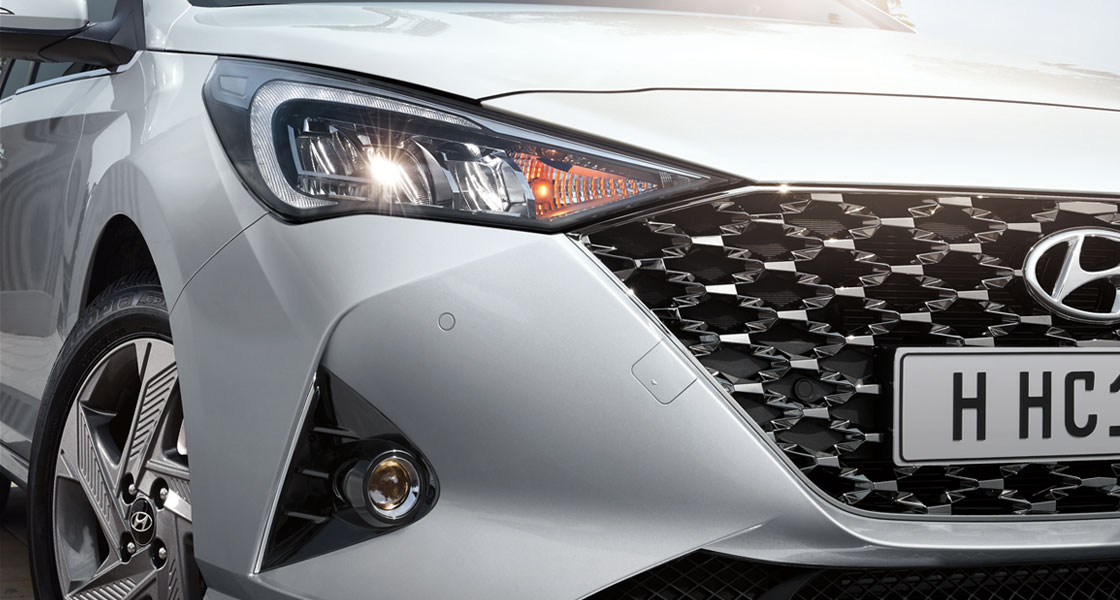 LED headlamps with MFR & projection fog lamps
Outside mirrors & repeaters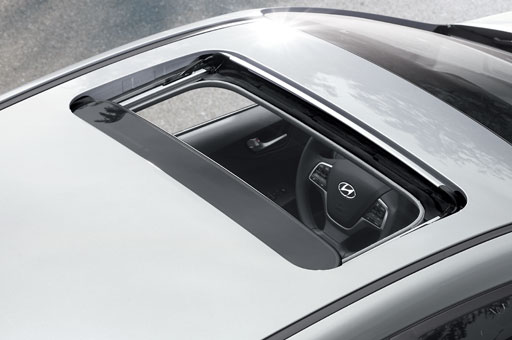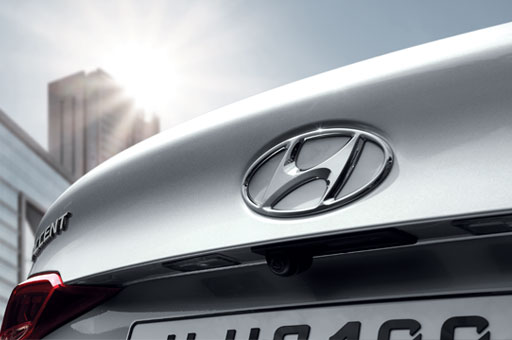 Customer Comfort
Impeccable mastery of materials and shapes to achieve perfection
and luxury, above its class.

Destined for you, in all forms
Accent's well-appointed two-tone cabin provides the perfect space to relax and to be productive too. Once you shut the doors, the peace and quiet will amaze you because Accent is exceptionally well-insulated from road and wind noise. And to keep you well connected and productive while you're on the road, the 8-inch multimedia display offers full support for smartphone connectivity and a lot more through a touchscreen display with easy-to-navigate menus. The colorful dials on the instrument are razor-sharp, precise and easy to read thanks to digital display technology.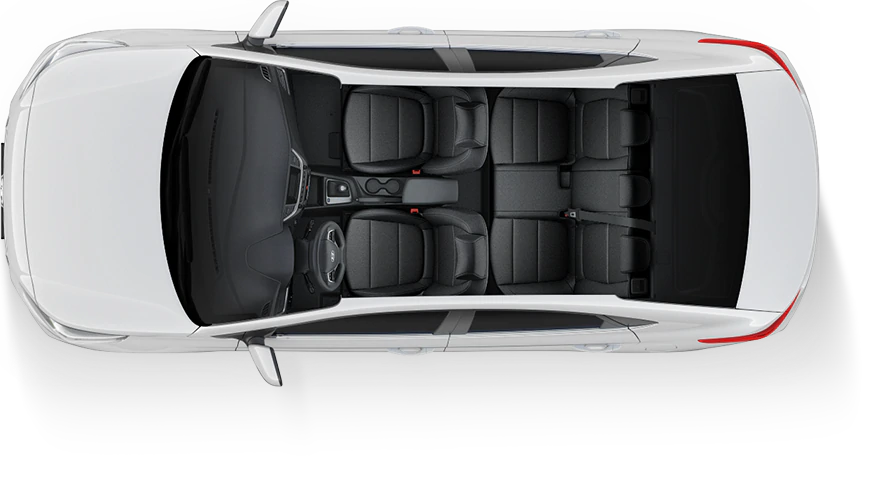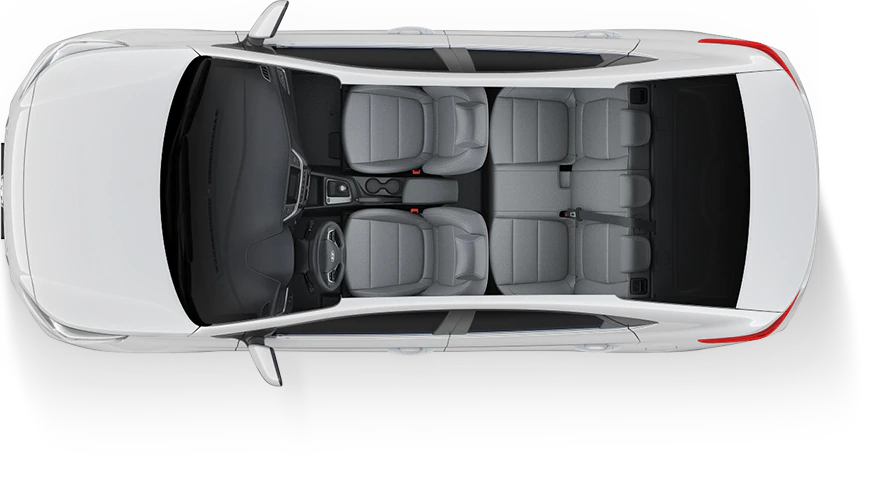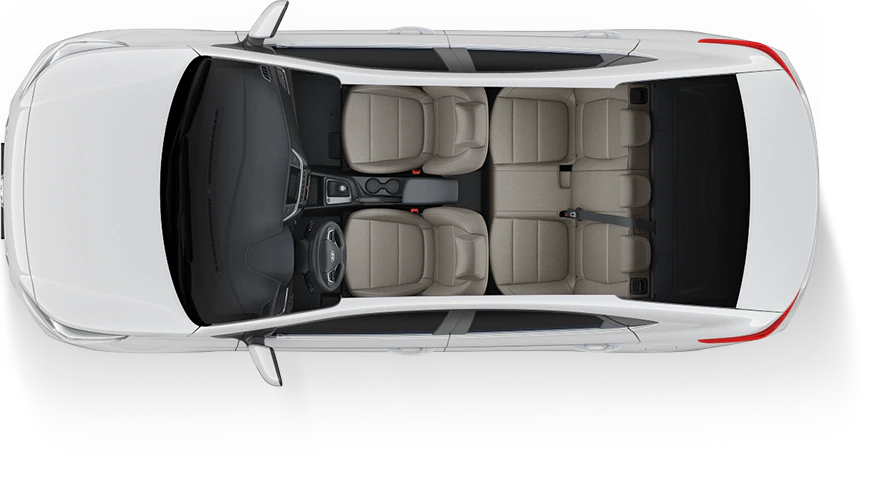 Interior Design
Customers can choose from three interior finishes: two-tone beige, two-tone gray, and one-tone black, each with a fabric finish option. More dignity and refinement for your interior due to high-to-mid gloss change in interior plating and seat coverage patterns.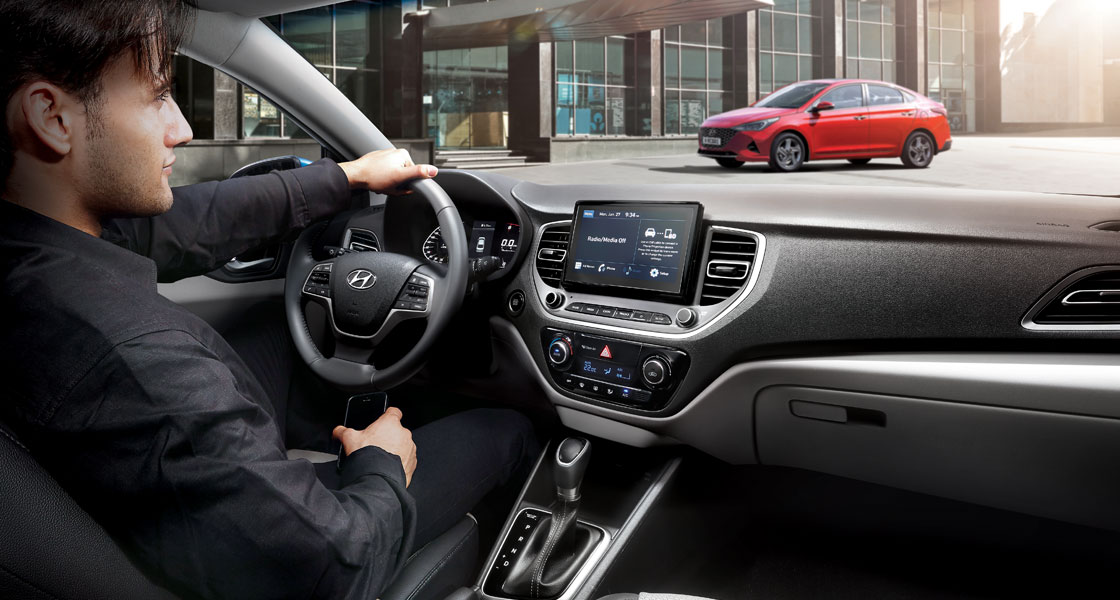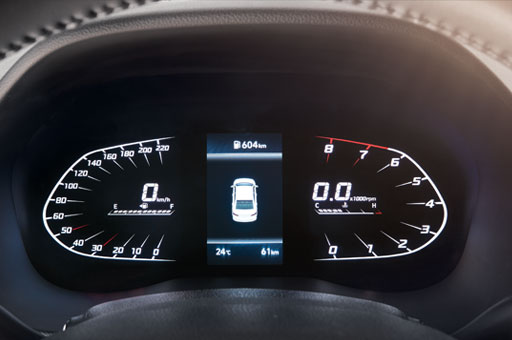 Full-digital instrument cluster
This next-gen instrument panel provides more information than ever and displays it with digital precision and razor-sharp clarity. The integrated 4.2-in display in the center tracks trip distances, calculates km to refueling, offers oil change reminders and much more.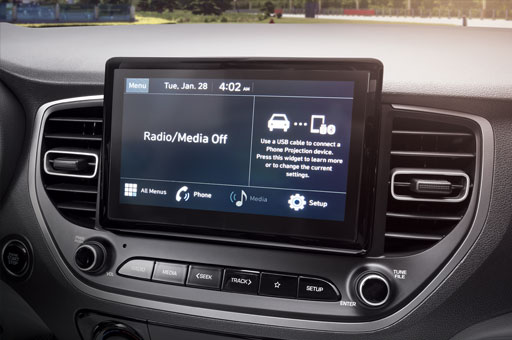 8.0˝ Display audio
Supporting Bluetooth 4.0 that interfaces with your smartphone, this multi-functional color LCD provides a touchscreen interface showing the rear camera image, time/date, MP3 player status plus AM/FM radio tuning with RDS.
Automatic climate control
Simply set the digital readout to the desired temperature and the powerful blower provides cooling, heating and ventilation to keep you perfectly comfortable regardless of the outside conditions.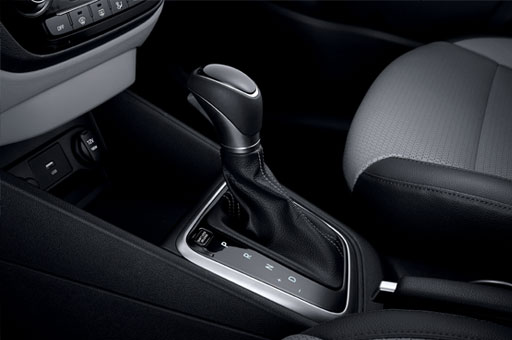 You will hardly notice this 6-speed gearbox doing its work. Automatic shifting is quick, smooth and quiet but also very convenient. Its efficient design helps maximize fuel economy.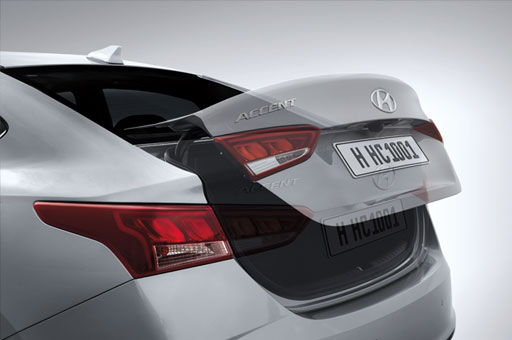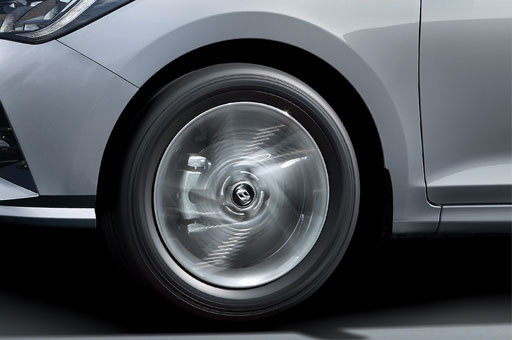 To ensure maximum stopping power, every Accent is equipped with 14-inch front disc brakes, a vacuum brake booster and an anti-locking brake system.
Absolute comfort
Enjoy comfort, control and elegance with driver-centric technology features that will give you a unique driving experience.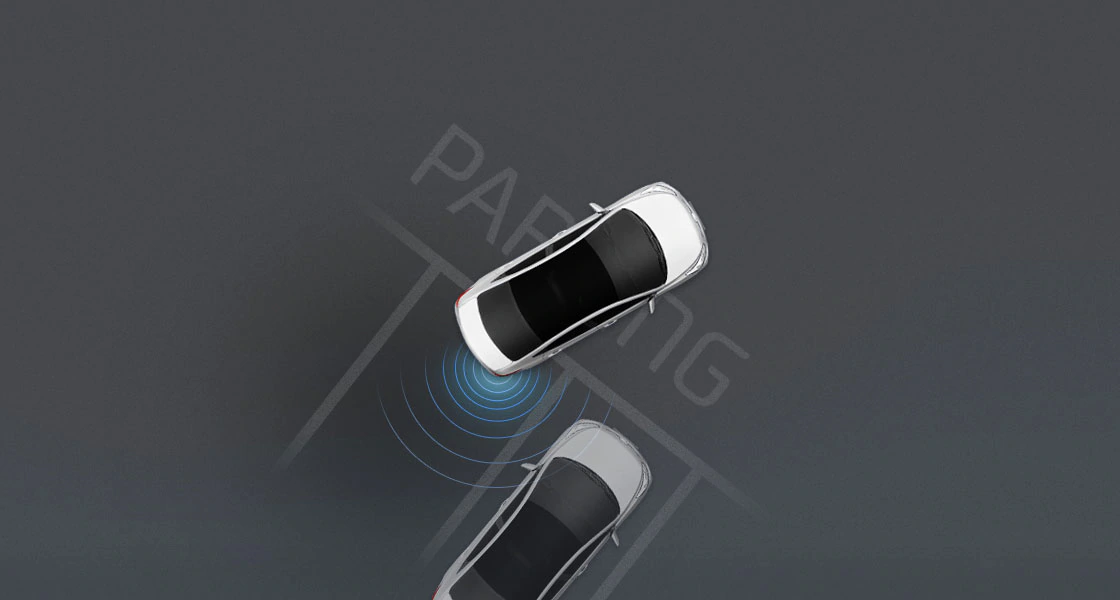 Parking Assistance System (RPAS)
The guides show you where you are in relation to other vehicles and the sidewalk. Sensors on the rear bumper detect objects you can't see and alert you with a sound.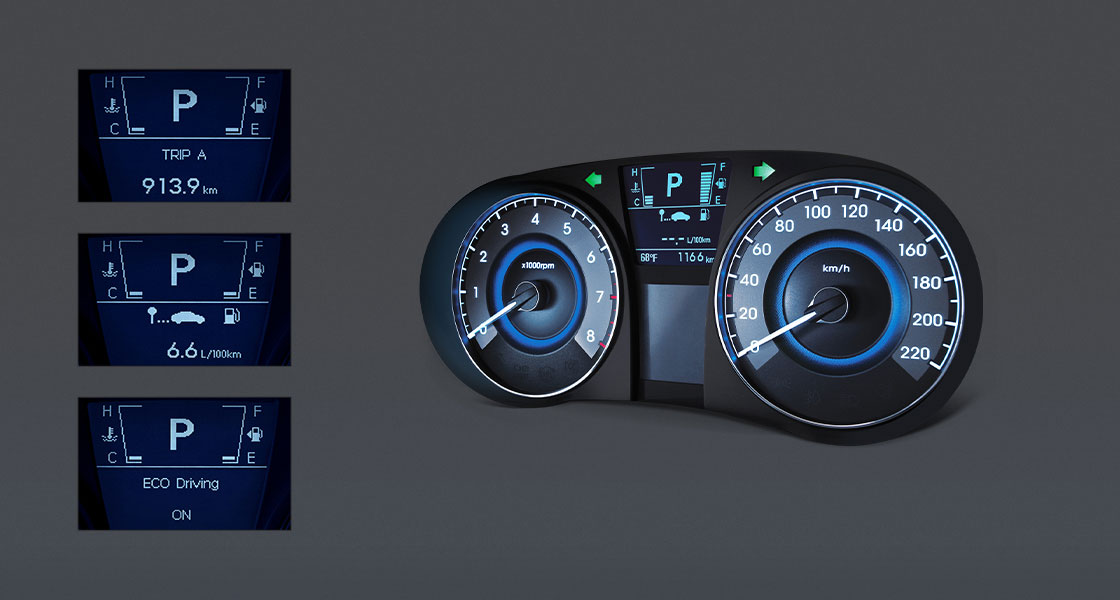 Monitoring group with color TFT LCD screen
The monitoring group, with its circular rev counter and speedometer, is illuminated with white and blue background for optimal clarity and readability. Provides vehicle information through sight and sound, consistent functionality meets sporty elegance.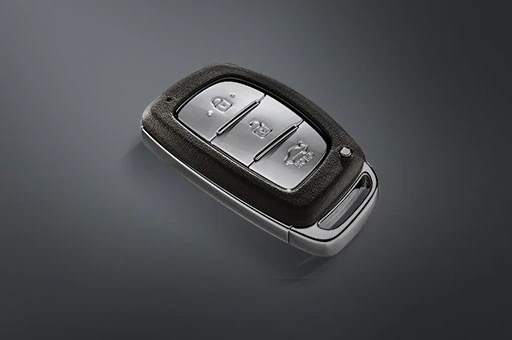 Smart key
A smart key as elegant and practical as the car itself. For ease of use, three separate buttons lock and unlock the doors and release the trunk.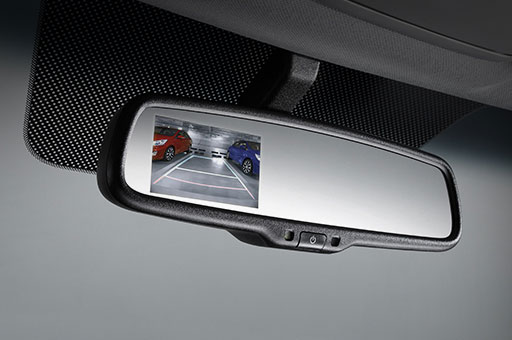 Rear Camera Display (RCD)
A rear camera relays images to the screen in the Electronic Chromic Mirror (ECM). When you park, the on-screen guides show you where you are relative to other vehicles and the sidewalk, to guide you into position.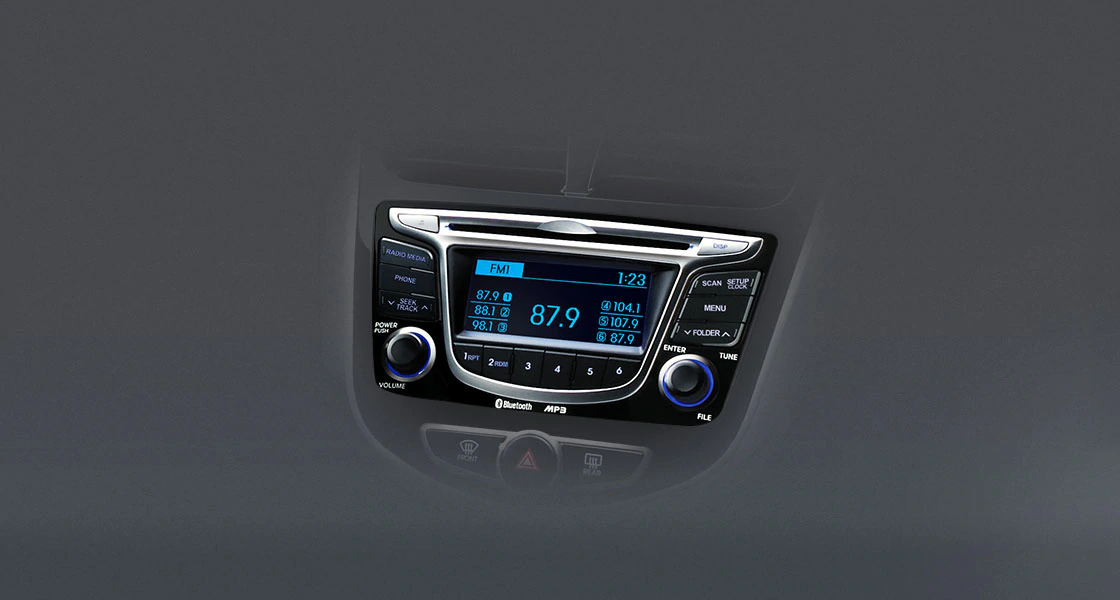 Audio system (Radio / CD / MP3)
The audio system features six speakers for high-quality sound reproduction while traveling. MY MUSIC functionality allows you to transfer music files from your portable device and store them in system memory. To prevent your eyes from dazzling and to enhance interior renovation, LCD lighting replaces the negative with the positive.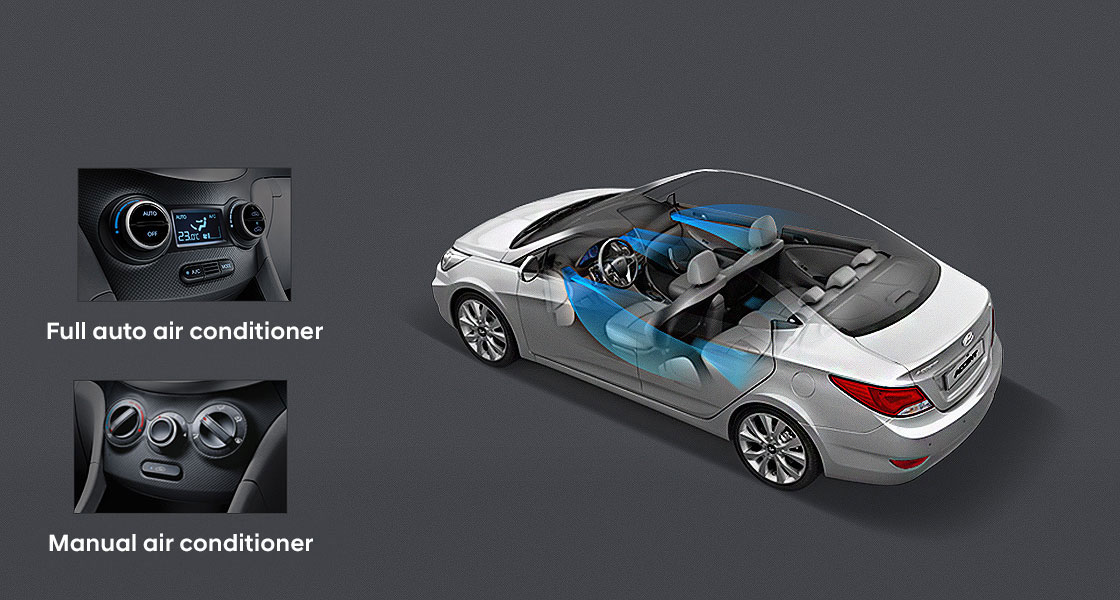 Complete automatic air conditioning system
Available as an option, the full automatic air conditioning system allows the driver to select one climate level setting and the passenger to select another. Simply set the desired temperature and let the system take care of the rest, ensuring a custom indoor climate that is completely comfortable and inviting for everyone on board.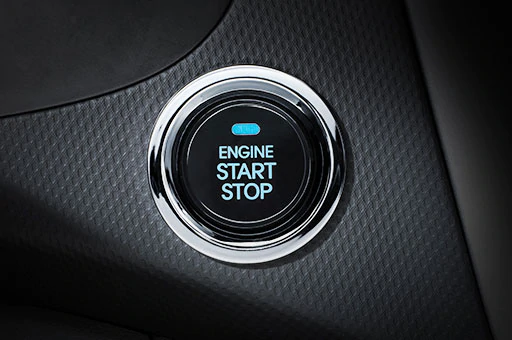 Engine start and stop button
Start your vehicle from the top Press the engine start / stop button to start the engine.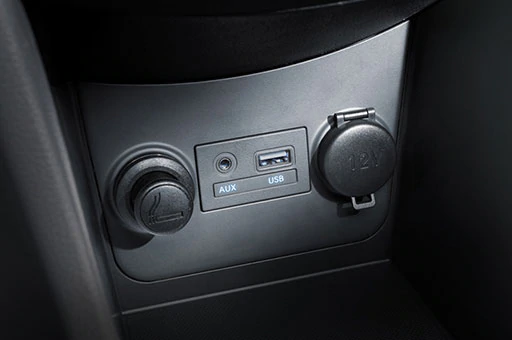 Connectivity (AUX and USB)
A USB port on the front console allows you to connect an iPhone / iPod or other portable device and play your music through the car's audio system. Plug and play, on the move.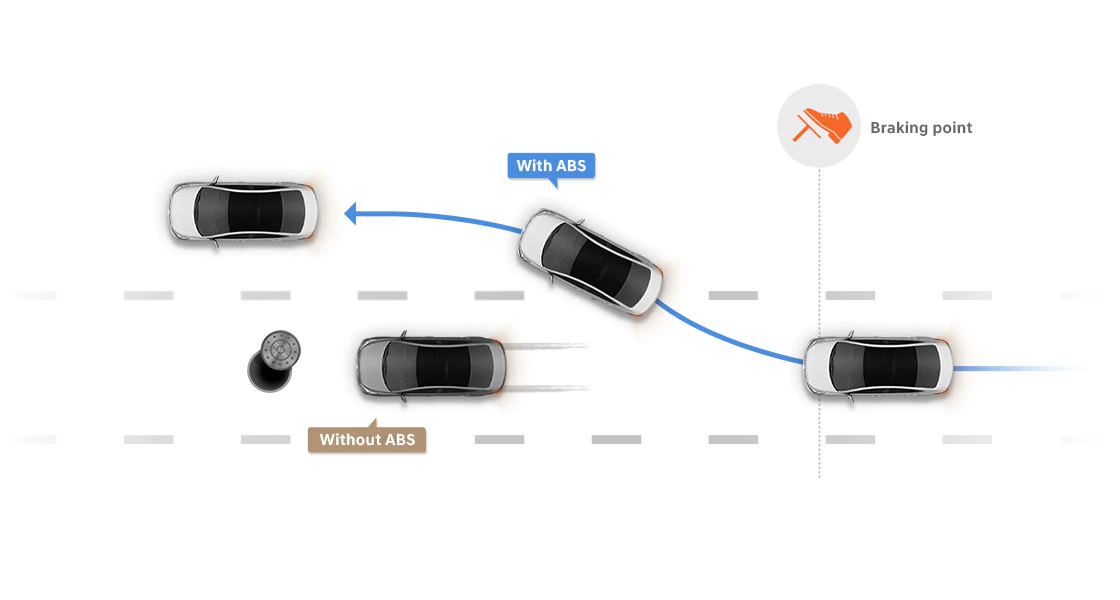 Antilock Brake System (ABS)
When applying the brakes on wet and slippery roads, any deviation in the direction is detected by the sensors of the anti-lock brake system (ABS). The Individual Anti-Lock Brake System (ABS) is activated to prevent wheels from locking, prevent slippage, and maintain directional control.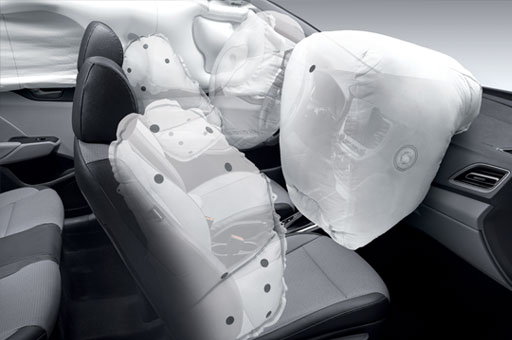 Six airbag system
Six-airbag system provides protection around you One for the driver, one for the front seat passenger, front and rear curtain airbags throughout the cab, plus airbags on the front sides .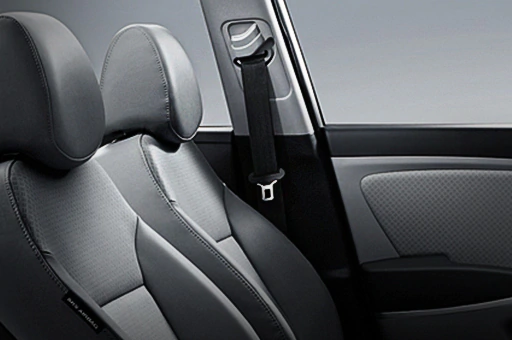 Seat belt pretensioners
In a collision, a sensor detects the impact and automatically tightens the seat belts around the pelvis, for additional protection.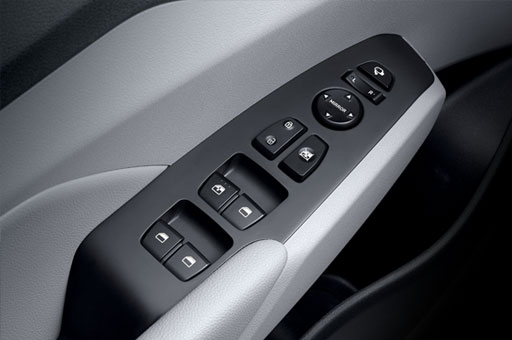 Power window adjustment controls
Ergonomically placed, the power window control switches are metal plated for better grip.
Motor
Engine Type: MPi
Displacement: 1,591
Max Speed: 184
Max Power: 124
Max PowerRpm: 6,300
Max Touch: 15.9
Max TorqueRpm: 4,200
Acceleration: 11.4
Braking Distance: 43
Number of Cylinders: 4
Valves of Cylinders: 16
gear: 4
driveConfig: FWD

Transmission
Transmission Type: Automatic Fuel consumption
Fuel Type: Gasoline
Tank capacity: 43
ACCENT - Gamma 1.6 MPi EU5 4 Speed ​​Automatic 2WD (Standard)